THIS POST MAY CONTAIN AFFILIATE LINKS. PLEASE READ MY DISCLOSURE POLICY FOR MORE INFO.

Many summer activities revolve around food and parties. Unfortunately, not all of them have your health in mind. Today I'm going to discuss 4 Tips to throwing a healthy party so you can party all summer long with piece of mind.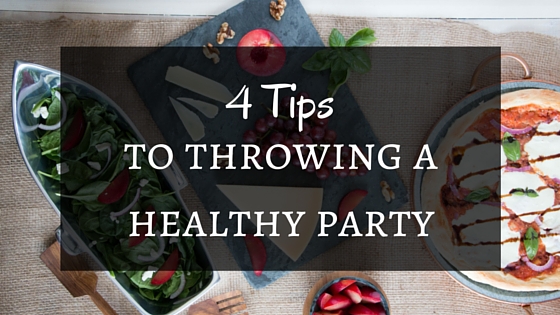 I don't know about you but many of the parties I go to usually consist of either 1) deep-fried foods, 2) frozen foods, 3) tons of processed foods, or 4) all of the above. In all honesty, it really irritates me.
I'm not sure if people buy those foods because they think everyone will enjoy them or that's what people expect to eat at a party or even that's just the easiest thing to grab at the grocery store. Good thing for you, I'm about to change all of those notions.
Throwing a healthy party doesn't have to be hard, expensive or take a lot of time to put together. For me, I love to eat seasonal foods. Eating seasonal and local helps support local farmers with an added benefit that seasonally foods are usually CHEAPER.
[bctt tweet="Throwing a healthy party doesn't have to be hard, expensive or take a lot of time to put together" username="healthyffblog"]
For my healthy summer party, I whipped up a fresh homemade pizza, fruit and cheese plate, and a delicious spinach salad. I even made my own pizza sauce for the pizza (organic tomatoes from my garden earlier this summer which I had frozen + 1 tsp coconut sugar + Salt + pepper + fresh garlic + dried basil). I used fresh mozzarella from the deli which I sliced thin to top on the pizza. I threw in some red onions and fresh basil (from my garden too) to finish the pizza off. I baked it on my Soapstone Pizza Pan to ensure a crispy crust!
I LOVE cheese! In my opinion, there's nothing better than fresh cheese (well maybe ice cream!). That's why I've used 3 different cheeses in my healthy summer party. Fresh parmesan cheese to top my pizza, fresh mozzarella baked on top, and delicious goat cheese to finish off a refreshing spinach salad. Also, how cute is this Row Boat Serving Bowl?
Uncommongoods is where I got all of my cute dishes! They're the perfect accents to throwing a healthy party. They also have tons of gifts that would be perfect for an anniversary gift! Check them out HERE. They seriously have the cutest stuff! Next father's day, I'm definitely getting my dad a few things from their grilling sections. Check them out HERE.
What I really like about uncommongoods is that they're a privately-owned retailer who features items that are created in harmony with the environment without harm to animals or people. Plus half of what they sell is hand-made! I wish I was that creative, but I'm not LOL. Good thing other people are because you would not want to eat out of something I made hahaha.
4 Tips to throwing a healthy party this summer
 Fresh is best. When it comes to choosing foods for your party I know it is super easy to just buy a large frozen lasagna or a package of hot dogs and chips and call it a day. Unfortunately those are not the healthiest of options but that's why I'm here to help! When doing your grocery shopping, try to make the majority of your purchases from the outside parameter of the store. This will help ensure that you are getting fresh ingredients to throw a healthy party!
Lighten up your foods. Instead of using full fat or full sugar in your recipes, opt for replacing half of the fat or half of the sugar for a lower calorie alternative. Do you want some homemade french onion dip? Instead of using full fat sour cream, replace half (or all) of it with plain fat-free greek yogurt. I bet your guests won't even be able to tell the difference! As for the sugar, try replacing some of it with fresh

pureed

fruit when recipes allow. If you can't make pureed dates or bananas fit your recipe, try reducing the sugar content with a sugar alternative like stevia or xylitol. 
Cool off with a refreshing beverage. Whether you're making a cocktail or a mocktail, try adding fresh fruit and herbs to your drink.  This is a simple way to add flavor (and antioxidants) to your beverage without adding a lot of added calories or sugar (compared to pre-made mixers).
Go outside. I know down here in Florida the heat is brutal in the summer. Being active outdoors is a great way to burn off some extra calories (be sure to drink plenty of fluids and take breaks when needed)! Plus you'll get that added benefit of getting in some vitamin D. Whether you're swimming in the pool or playing corn hole, getting outside and being active is an easy and fun way to make a party healthier.

Disclosure of Material Connection: I received one or more of the products or services mentioned above for free in the hope that I would mention it on my blog. Regardless, I only recommend products or services I use personally and believe will be good for my readers. I am disclosing this in accordance with the Federal Trade Commission's 16 CFR, Part 255: "Guides Concerning the Use of Endorsements and Testimonials in Advertising."