This Chocolate Dairy Free Keto Ice Cream made in the Ninja Creami is the real deal! It's extremely creamy and not at all chalky! No funny after tastes either! It's not like any keto protein ice cream that I've had before.
Chocolate Keto Dairy Free Protein Ice Cream
My favorite food in the whole world is ice cream.
I just wish it was a healthier food. So...I decided to make my own.
The chocolate ice cream recipe is low carb, low calorie, high protein AND tastes delicious! It's also dairy and gluten-free. You can make it vegan as well if you want to!
If you're looking for a non-keto chocolate ice cream, check out this delicious Ninja Creami Chocolate Protein Ice Cream Recipe. If you're a strawberry lover, hop on over to this Strawberry Ice Cream Recipe or this 3 Ingredient Keto Strawberry Ice Cream.
And don't forget peanut butter! You'll love this Ninja Creami Peanut Butter Ice Cream!
And this Chocolate Protein Ice Cream Recipe without Bananas is questionable whether you'd consider it keto. It's definitely low carb and delicious with only 7g net carbs per serving.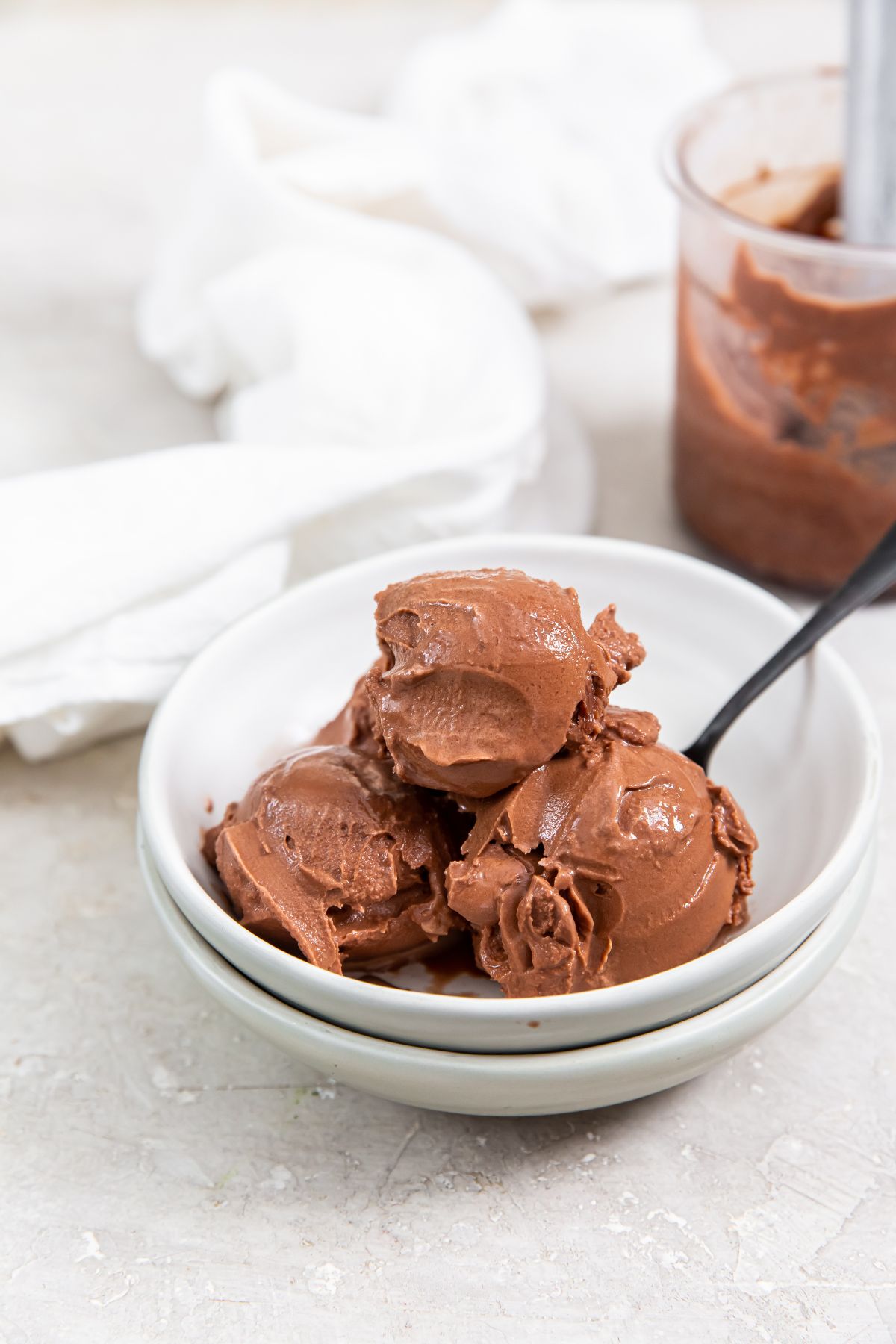 Why you'll love this low carb chocolate protein ice cream recipe
Dairy Free Ice Cream Recipe - this keto ice cream recipe is dairy free. It's great for those that are sensitive to dairy or are just trying to remove it from the diet for a little bit
Low Calorie High protein Ice Cream - 9g of protein per serving with just 99 calories per ⅔ cup serving. Or eat the entire pint for just about 300 calories and 27g of protein.
Low Carb Ice Cream - this recipe has just 9 grams of net carbs for the entire pint!
What is keto chocolate ice cream?
Keto chocolate ice cream is an ice cream that is low in carbohydrates and typically higher in fat and moderate in protein. But this varies in who you ask, but one consensus is that it needs to be low in carbs.
Some have their opinions if it has certain sweeteners that it shouldn't be considered keto. Personally as long as it doesn't spike my glucose, insulin or kick me out of ketosis, I consider it a keto friendly ice cream.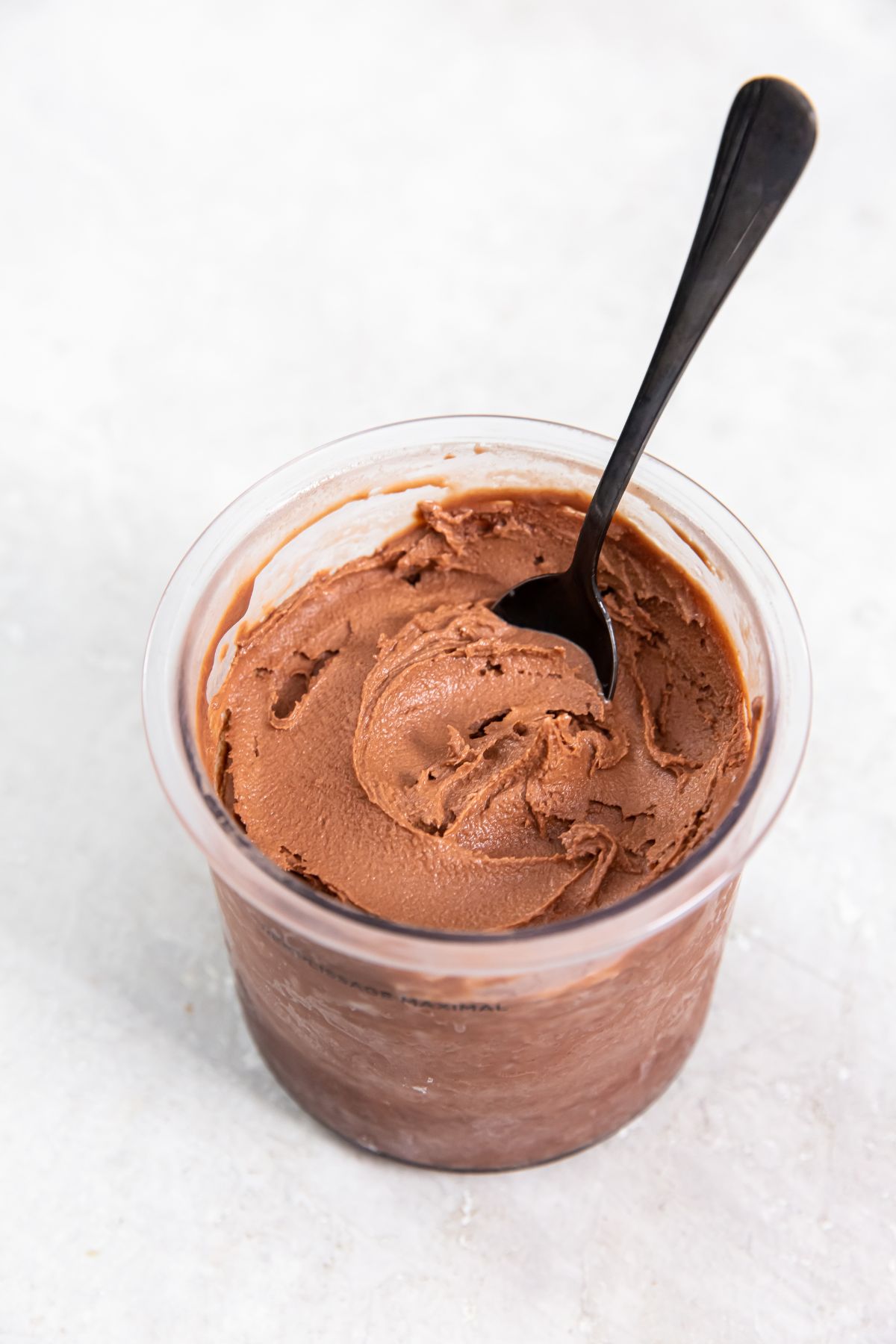 What is the Best Ice Cream Maker?
I am absolutely in love with my new Ninja Creami ice cream maker. Previously I was just using a kitchen aid attachment for my kitchen aid mixer, but since purchasing the creami I've been using it almost every single day (except when I'm away from home lol).
Yes, it says it takes 24 hours to make ice cream but I've only let it freeze for 12 hours and it still comes out great! On these quick freeze ice creams I just use the "soft serve" program.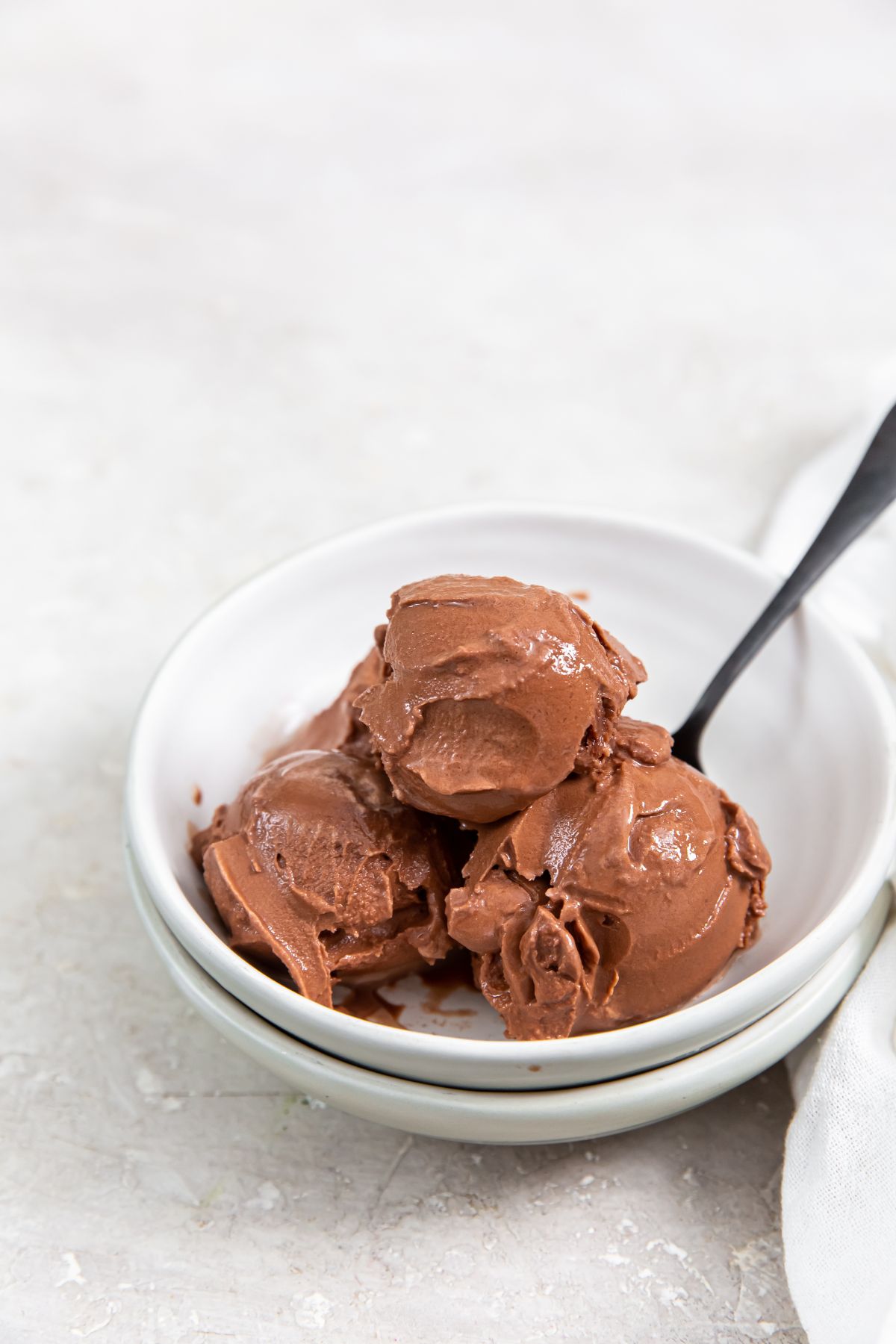 Ingredients for high protein ice cream
coconut milk - I used the Trader Joe's Brand because it doesn't have any gums or emulsifiers that can cause GI irritation.
water
unflavored protein powder - my favorite brand is Naked Nutrition
vanilla extract - you can use either liquid vanilla extract or you can even use vanilla bean paste for a richer vanilla flavor
stevia extract - I love the convenience of NOW Organic Stevia Extract
powdered sweetener - I've been loving the Besti Brand Sweeteners. I have a few of them that I alternate between.
cocoa powder - make sure it's an unsweetened kind. Regular or dark cocoa powder works. Just make sure you don't use cacao powder for this or it will be bitter and not as sweet.
Choose your protein powder
Even though this is a chocolate protein ice cream recipe, I opt to use an unsweetened protein powder. I prefer to add individual flavors and sweeteners instead of being subjected to whatever sweeteners are in the protein powder.
Below are some great, low carb protein powders that you can use for this protein ice cream recipe.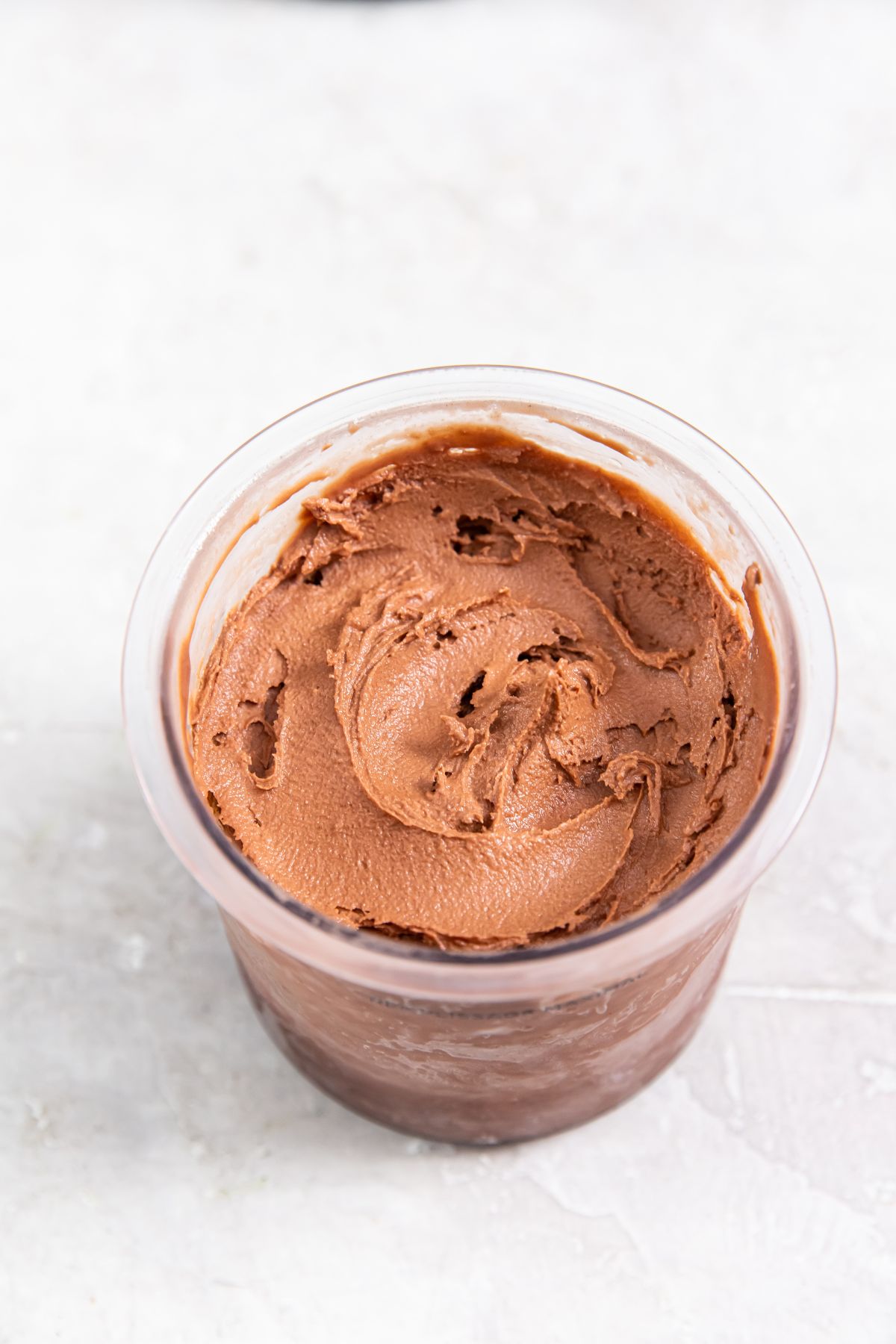 Choose your low carb sweetener
When making protein ice cream, I typically like to use a mixture of liquid stevia plus a powdered or granulated sweetener. In this recipe I used stevia and a powdered monk fruit and erythritol blend. But I've also just used granulated allulose without stevia as well.
The low carb sweetener you use greatly depends on your personal choice. I have friends that can't use stevia or erythritol because they can taste the bitterness or aftertaste, and they choose allulose or monk fruit instead.
Those two keto sweeteners tend to be best tolerated for super tasters or those who tend to have issues with artificial sweeteners or low carb sugar replacements.
Powdered and Granulated Keto Sweeteners
How to make the keto ice cream base
First, add all of the ingredients into a blender or mason jar. Blend or shake until the ingredients are well combined.
Then, transfer the liquid to the Creami ice cream pint and place the lid on. Freeze for 18-24 hours.
Make sure to not fill the liquid over the fill line or the blades on the Creami might not be able to work properly.
Freeze the ice cream base
Freeze the ice cream base for 18-24 hours. For soft serve type ice cream freeze for at least 18 hours and for harder ice cream, freeze for at least 24 hours.
Keto Chocolate Protein Ice cream Nutrition
This recipe serves 3. Each serving is ⅔ cup.
Per serving (⅔ cup) there is 99 calories, 3g net carbs, 9g protein, and 6g of fat. 8g total carbs (4g sugar alcohols, 1g fiber, 3g net carbs).
Macros per the ENTIRE PINT: 297 calories, 9g net carbs, 27g protein, and 18g fat. 24g total carbs (3g fiber, 12g sugar alcohols).
The Monkfruit Erythritol blend I used has 12g total carbs, of which 12g are from sugar alcohols. So this makes it 0g net carbs per serving from the sweetener.
Toppings for this Low Carb Protein Ice Cream Recipe
You can add in stevia sweetened chocolate chips or unsweetened coconut flakes or even chopped nuts to your ice cream. After you do the first spin on the Creami ice cream maker, remove the pint and make a 1 inch very deep hole in your ice cream.
Then add your desired toppings into the hole. Then replace the lid with the blade onto the pint and lock it into place. Then click the "mix-in" setting. This will incorporate your low carb ice cream toppings throughout the ice cream.
How to store
Store the keto protein ice ream in the freezer with the lid on. Mine never lasts longer than a few days. It should last 3 to 6 months in the freezer.
FAQs
How to make protein ice cream keto?
You can make protein ice cream keto by replacing the sugar with a keto friendly sweetener.
Does keto ice cream kick you out of ketosis?
The goal of eating keto ice cream is so that it doesn't kick you out of ketosis. But with most things, if you eat too much of it, it may kick you out of ketosis.
What makes keto ice cream keto?
A keto ice cream is one in which is low in carbs and high in fat. In terms of macros, the most important is carbohydrates. I would consider any ice cream with less than 6-8g of carbs per serving keto friendly.
Can I I omit the protein powder?
You can omit the protein powder, but then it won't be a high protein keto ice cream. It will just be a keto chocolate ice cream.
Can I use collagen powder instead of whey protein?
Yes, you can substitute collagen for whey protein 1:1.
Can I use heavy cream instead of coconut milk?
You can use heavy cream instead of coconut milk to make protein ice cream, but it will no longer be dairy free. You substitute it 1:1.
Can I use sweeteners from the supermarket?
Yes. Nowadays you can find sweeteners such a Swerve, liquid stevia and even allulose at some grocery stores.
Dairy Free Keto Chocolate Ice Cream
This Keto Chocolate Ice Cream is the real deal! It's extremely creamy and not at all chalky! No funny after tastes either! It's not like any keto ice cream that I've had before. And it's dairy free and gluten-free
Ingredients
1

cup

water

⅓

cup

coconut milk

2

scoops

Unflavored Protein Powder

½

teaspoon

vanilla

5

drops

stevia extract

1

tablespoons

Besti Monk Fruit Erythritol Blend

2

tablespoons

cocoa powder
Instructions
Add all of the ingredients into a blender or mason jar.

Blend or shake until the ingredients are well combined.

Transfer the liquid to the Ninja Creami ice cream pint and place the lid on. Freeze for 18-24 hours.

Once the ice cream base is completely frozen, remove it from the freezer.

Remove the lid and transfer the pint into the Ninja Creami pint holder.

Place the blade into the lid and then place the lid onto the pint holder. Lock the ice cream into the creami and select either the ice cream or soft serve selections.

If after one round of spinning your ice cream is a little dusty in texture and not creamy, select the "spin again" setting. Enjoy and serve with your favorite keto toppings
Notes
The Monkfruit Erythritol blend has 12g total carbs, of which 12g are from sugar alcohols
Per serving (⅔ cup) there is 99kcals, 8g total carbs (4g sugar alcohols, 1g fiber, 3g net carbs), 9g protein, and 6g of fat
Nutrition
Calories:
99
kcal
Carbohydrates:
8
g
Protein:
9
g
Fat:
6
g
Saturated Fat:
5
g
Polyunsaturated Fat:
0.1
g
Monounsaturated Fat:
0.4
g
Cholesterol:
33
mg
Sodium:
38
mg
Potassium:
167
mg
Fiber:
1
g
Sugar:
1
g
Vitamin A:
53
IU
Vitamin C:
0.3
mg
Calcium:
77
mg
Iron:
3
mg
PIN THIS RECIPE FOR LATER