Cooking bacon on the Blackstone Griddle makes them incredibly crispy and full of flavor! They take just 8 minutes to cook on the griddle.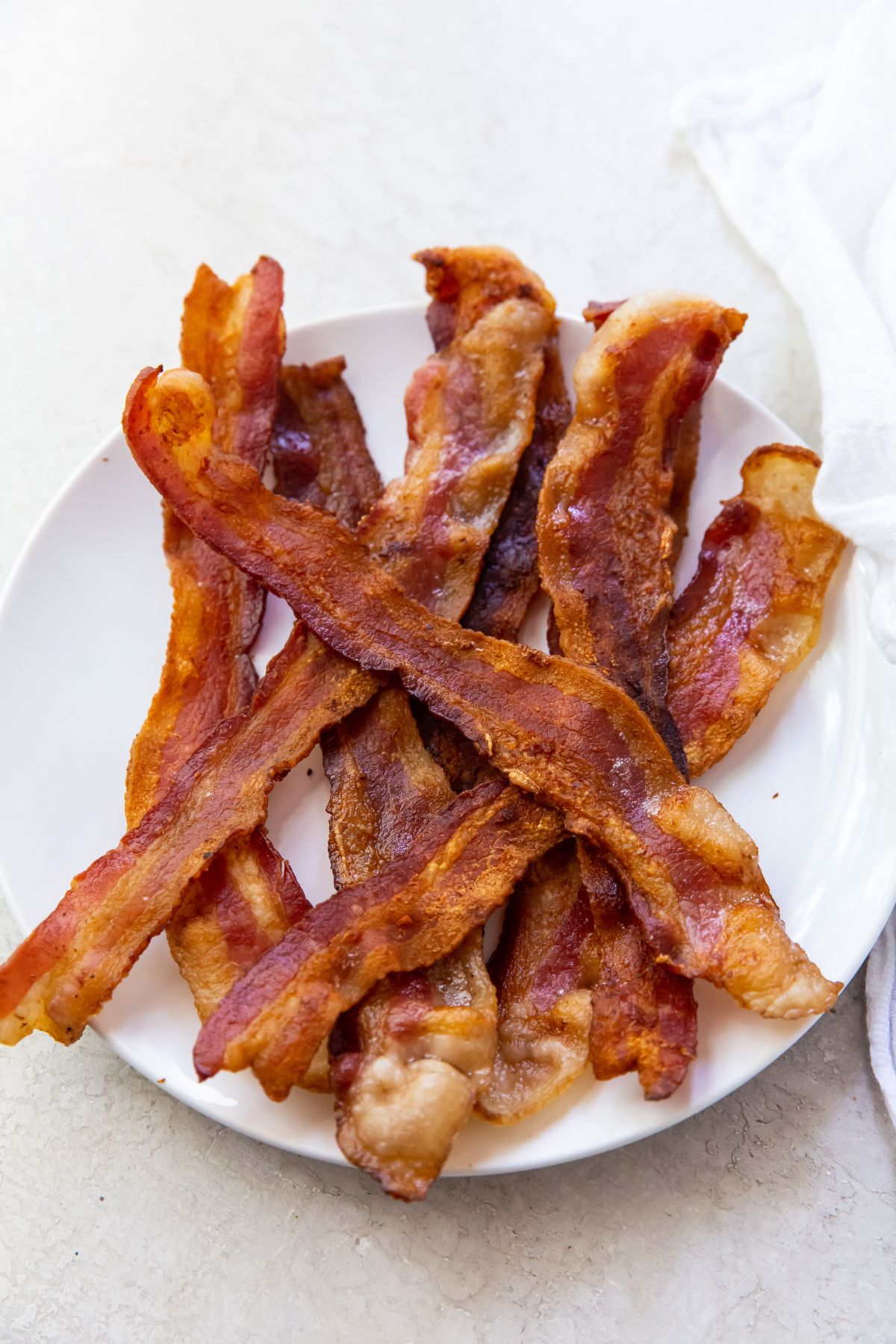 Bacon on the Blackstone Griddle
Blackstone Bacon is deliciously crispy. Once you cook bacon on the Blackstone when camping, you will never want to cook it any other way.
Griddled Bacon is a staple for breakfast and it pairs nicely with this Blackstone Scrambled Eggs recipe. Or use this bacon on a juicy Blackstone Burger.
For more Blackstone breakfast recipes, check out my post on the best Blackstone Griddle recipes.
Just a side note, you'll probably see people cook bacon as a way to season a new griddle top. I didn't do this, so I can't recommend it either way.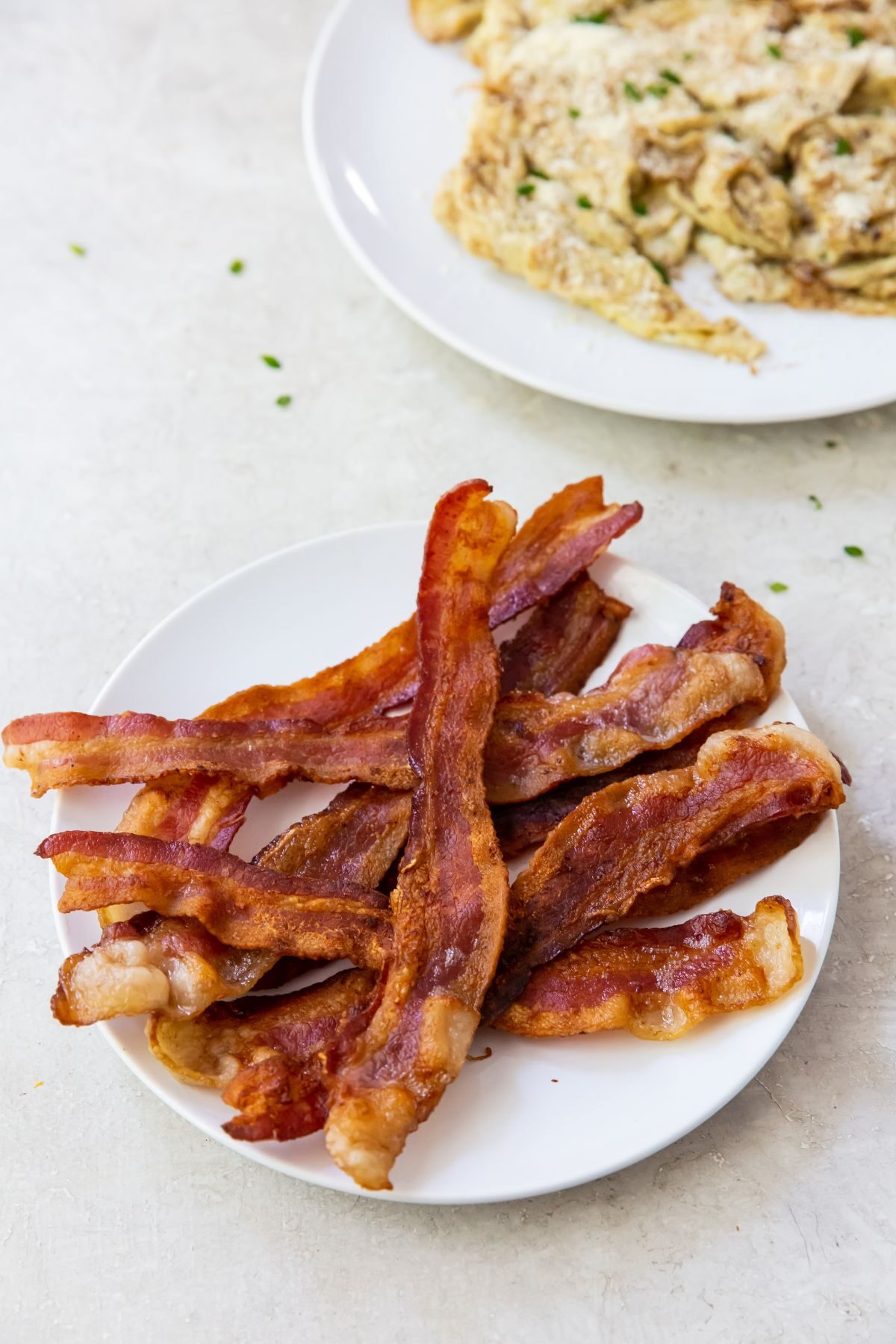 Why you'll love this Bacon on the Blackstone Griddle
Quick Recipe - bacon cooks so fast! It only takes 8 minutes to make delicious bacon on the griddle.
Keto and low carb - 0g of carbs and 14g of protein per serving. Perfect as a topping, make bacon bits for a side dish, eat it as a snack, or use it as part of a delicious breakfast.
Ingredients
bacon - I choose uncured bacon and go for local and pasture raised when possible. The bacon does not need to be room temperature.
Tips & Tricks
Cooking bacon first on the Blackstone griddle is the best way to add flavor to your food. I do this whenever I want to cook eggs on a flat top grill. Cooking food in bacon grease is a delicious way to good on the Blackstone Griddle.
I always cook bacon first and then cook the eggs in the bacon grease and I do the same with Brussels Sprouts on the Blackstone.
Don't use olive oil, vegetable oil or canola oil on the surface of the griddle. Bacon fat, or other rendered animal fats are best. Or you can use avocado oil if you don't have rendered fats on hand.
They are great because they have a higher smoke point.
For bacon it's hard to use a food thermometer because it's so thin, but you can generally tell it's done when the bacon is no longer translucent and it becomes crispy.
You also don't need to use a bacon press, I feel it's unnecessary. But it you want super flat and crispy bacon, it might help.
Tools to make this easy recipe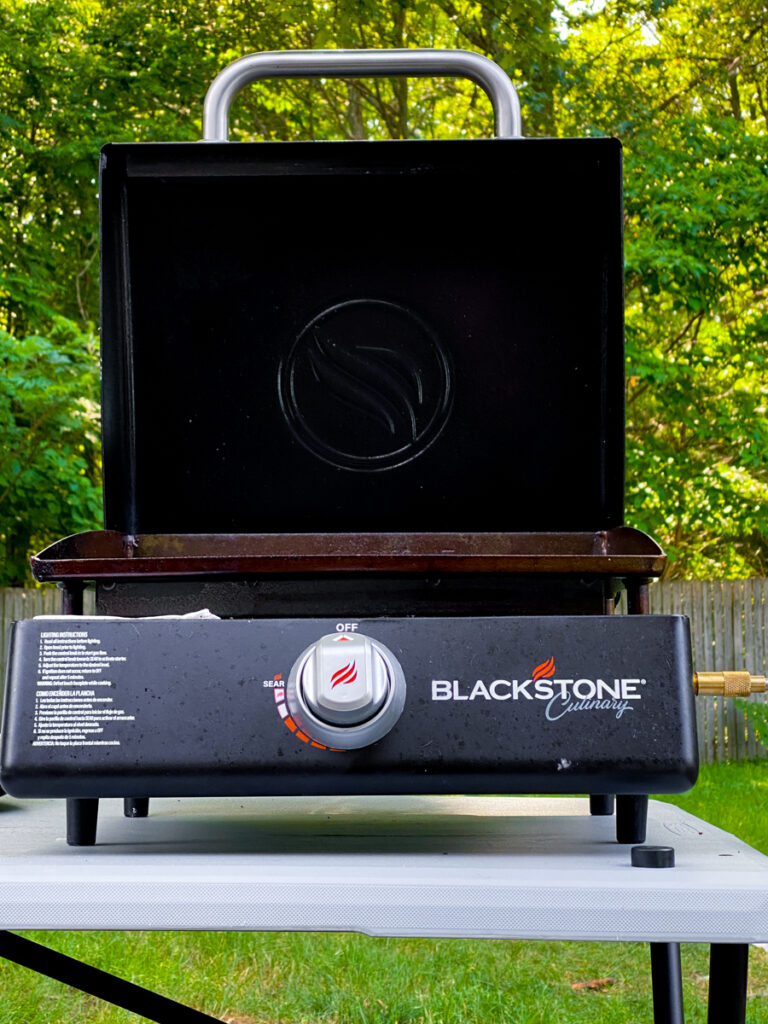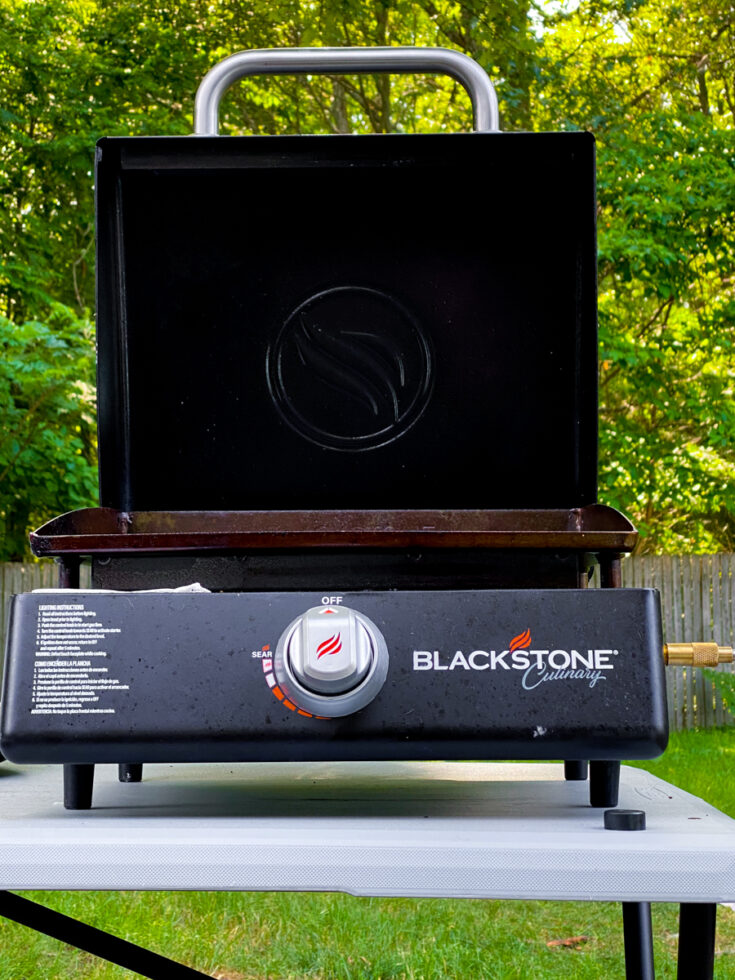 How to make Bacon on the Blackstone Griddle
Preheat griddle to medium heat. Add the bacon once the griddle surface is hot.
Cook the bacon for 3-4 minutes per side or until desired level of crispiness. The thickness of the bacon will determine how long you need to cook it. For thick bacon, you may need to cook it for an additional 1 minute on each side.
Optional season with salt and pepper
Transfer the bacon to paper towels to absorb any extra grease.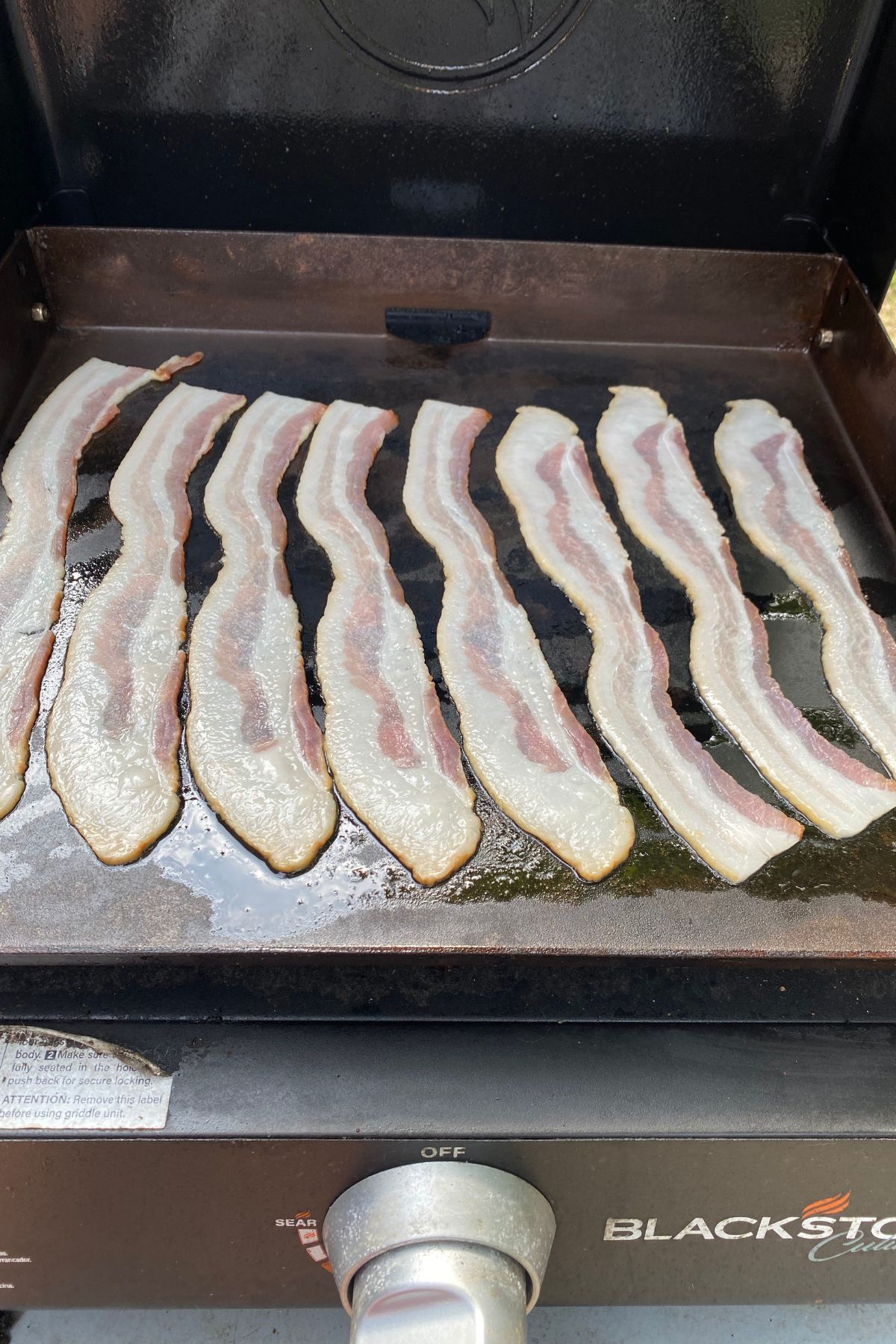 Stovetop Directions
First, preheat a skillet to medium high heat. Place 3-4 bacon slices on the skillet. Cook for about 3-4 minutes each side or until desired crispiness. Repeat for remainder bacon.
If you're going to season the bacon, sprinkle the top of the bacon with spices before cooking.
Substitutions
If you do not have bacon, you can substitute it with turkey bacon. It has less fat and calories.
What to serve with Bacon on the Blackstone Griddle
If you are in the breakfast mood, I like to cook these bacon on the Blackstone with these scrambled eggs. Another breakfast staple is to try these bacon with hash browns and air fryer breakfast sausage.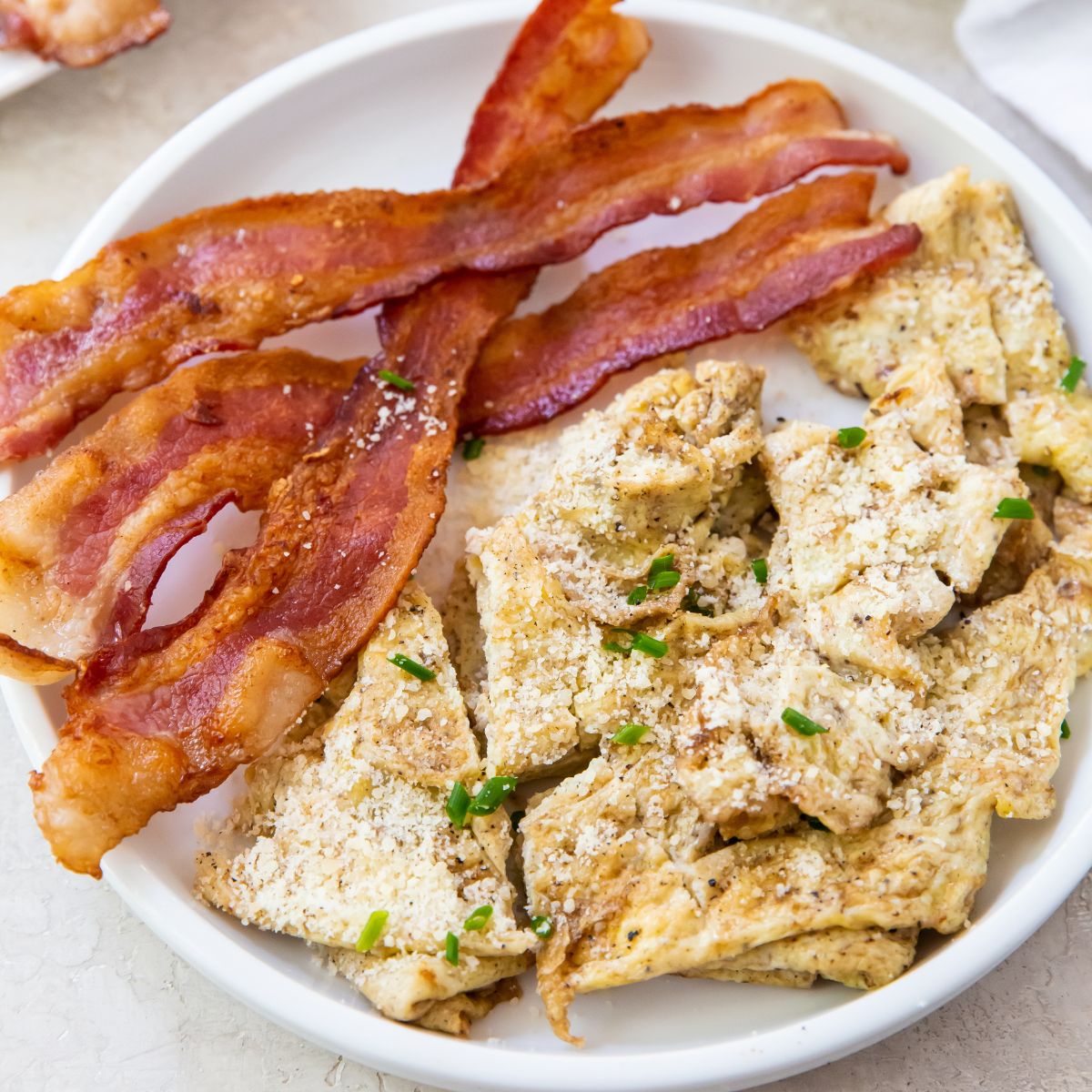 How to store
Store any leftover bacon in an airtight container for up to 5 days.
Don't forget to keep the bacon grease! You get this delicious healthy cooking oil at no additional cost! Store the leftover bacon fat in a glass jar. Let it cool completely before putting on a lid. Keep refrigerated.
You can use the remaining bacon grease to make sautéed onions for burgers using red onions or a vidalia onion. Or use the fat to cook hot dogs, a griddle cake, asparagus, green beans, acorn squash or other delicious Blackstone Side Dishes.
How to reheat
Remove the lid from the container and microwave on high for 30-45 seconds, or until the bacon is warm. You may also transfer the bacon to a microwave safe dish to warm up. Or you can reheat the bacon on a frying pan or on the griddle again.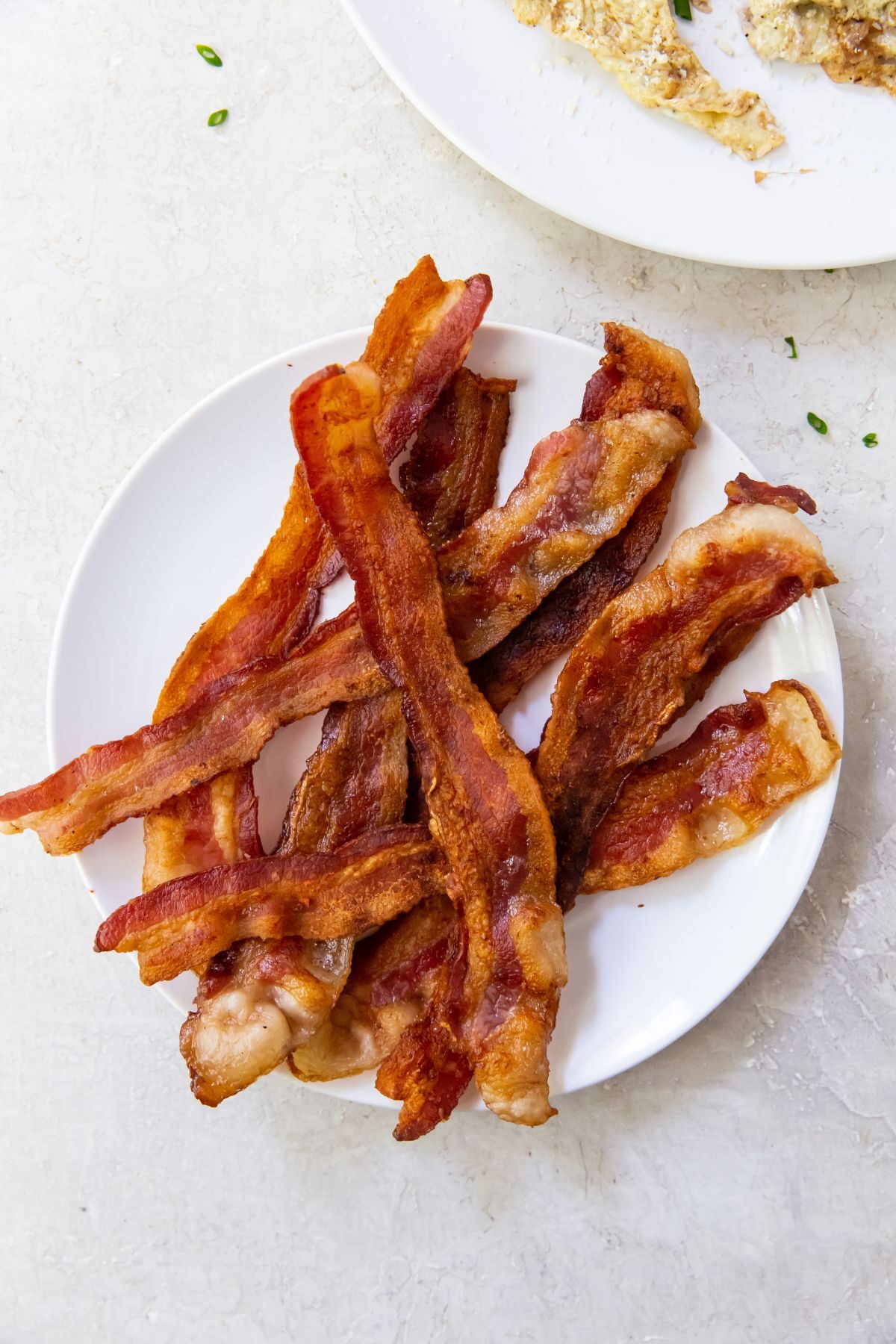 FAQs
How to cook bacon on blackstone griddle?
Heat Blackstone to medium heat. Add bacon once hot. Cook the bacon for 3-4 minutes per side or until desired level of crispiness.
What temp to cook bacon on blackstone griddle?
Heat the Blackstone griddle to medium heat
Bacon on blackstone griddle
Cooking these bacon on the Blackstone makes them crispy and full of flavor. There is no prep time and they are done in only 8 minutes. This recipe is great and your whole family will love it.
Instructions
Preheat griddle to medium heat. Add the bacon once hot.

Cook the bacon for 3-4 minutes per side or until desired level of crispiness.

Optional season with salt and pepper
Nutrition
Calories:
461
kcal
Carbohydrates:
0
g
Protein:
14
g
Fat:
44
g
Saturated Fat:
15
g
Polyunsaturated Fat:
7
g
Monounsaturated Fat:
19
g
Trans Fat:
0.1
g
Cholesterol:
73
mg
Sodium:
732
mg
Potassium:
219
mg
Vitamin A:
41
IU
Calcium:
6
mg
Iron:
0.5
mg
PIN THIS RECIPE FOR LATER