You will be surprised how easy it is to prepare an omelette in the Air Fryer. This Air Fryer omelette is simple and healthy breakfast option. Perfect for a quick and delicious breakfast on those busy mornings.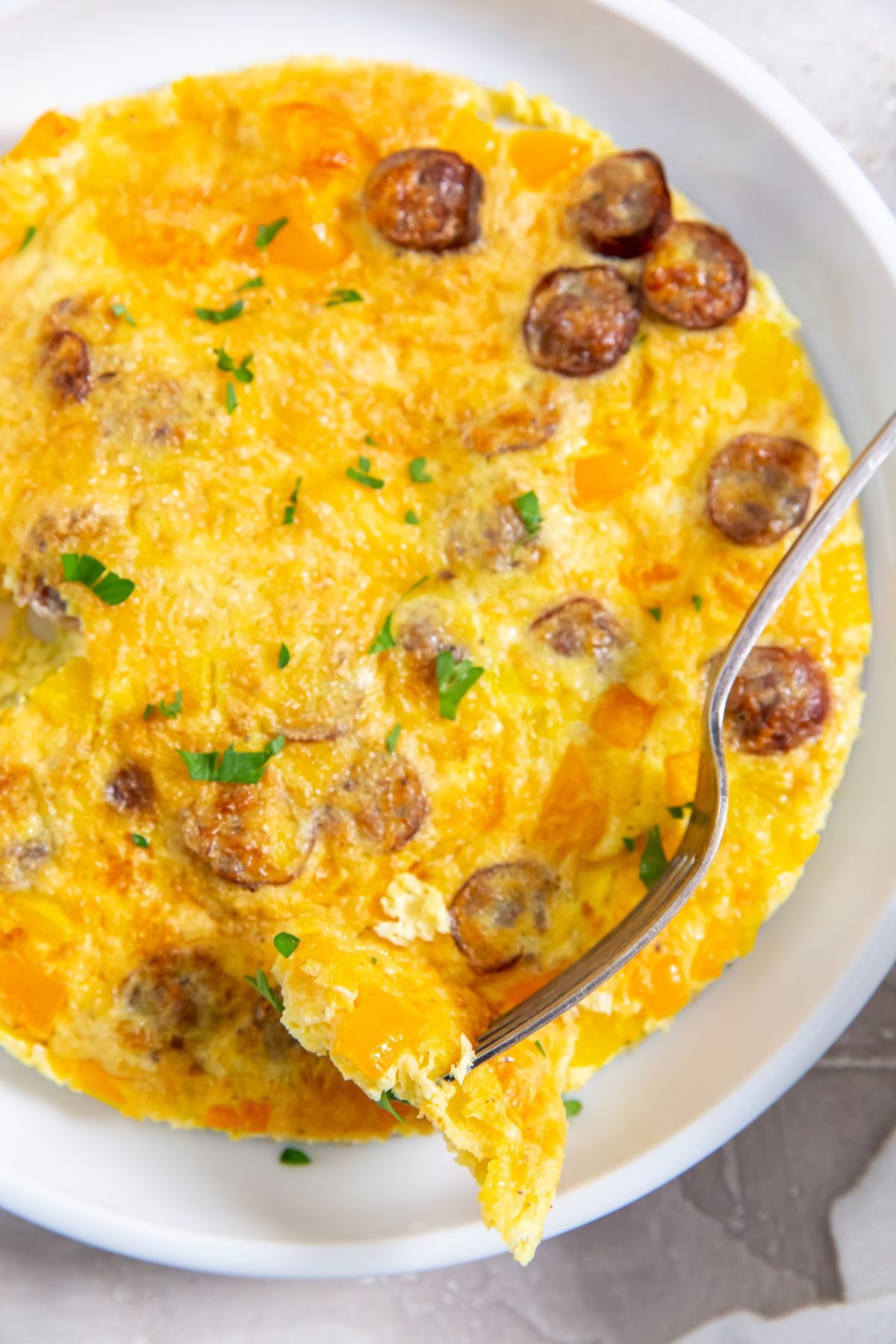 Air Fryer Omelette
This Air Fryer Omelette is a prefect breakfast meal! Packed full of protein, vitamins and is low in carbs!
It is super easy to make and great for a light breakfast. This omelet in the air fryer is done in less then 15 minutes. The best part, you don't have to worry about flipping it!
After you mix up the ingredients you just pour it into whatever container you choose and let the air fryer do the work!
For this easy Air Fryer Omelette recipe, I used a push pan, but you can use parchment paper or insert another type of oven safe dish such as a pyrex bowl.
For more breakfast air fryer recipes, check out this Air Fryer Breakfast Sausage, Crispy Air Fryer Bacon and this Perfect Air Fryer Hard Boiled Eggs.
Why you'll love this Air Fryer Omelette
Simple Recipe - this recipe uses simple ingredients that you can find at your local grocery store. It also requires little to no prep.
Low Carb Recipe - this omelet is very versatile! I made a low carb version, but you can add any of your favorite toppings!
Quick and Easy Recipe - this recipe can be done in less than 15 minutes!
Omelettes aren't the only kind of eggs that you can make for breakfast in the air fryer! You can also make these delicious air fryer egg recipes for easy breakfast ideas.
scrambled eggs
fried eggs
Ingredients
large eggs - with the prices of eggs nowadays this isn't as budget friendly as it once was. I still prefer to get local farm fresh eggs when I can find them.
Colby Jack cheese
cooked breakfast sausage. I used leftover air fryer sausage that I made in the air fryer for this omelette recipe.
bell peppers - I used an orange bell pepper for the sweet flavor. You can also use yellow, green or red bell peppers.
seasonings: kosher salt, ground black pepper
Optional omelette mix ins: bacon bits, garlic, cream cheese, mushrooms, spinach, goat cheese, fresh basil, garlic powder, or even Monterey Jack cheese.
Tips & Tricks
You'll love this easy omelette recipe, but depending on what you cook your omelette in push pan, cake pan, pyrex pan or parchment paper - you may need to add or reduce time so you get a nice and fluffy omelette.
If you want a more basic omelette, try adding in a few types of cheese for a delicious homemade air fryer cheese omelette.
The air fryer can help you make the perfect omelette!
Tools to make this easy recipe
Air Fryer – my favorite is this Cosori Air Fryer because of the large air fryer basket.
Push pan, bowl or parchment paper to make the omelette in.
How to make Air Fryer Omelette
In a medium mixing bowl add in your egg, salt, and black pepper. Whisk together
Slice your breakfast sausage and add them in. Dice your peppers and add them in. Add in the cheese and mix them all together.
Line your air fryer basket with parchment paper or insert an oven safe dish such as a push pan or pyrex bowl. Spray with cooking spray or oil. Pour egg mixture into lined air fryer basket or pan.
Cook at 350 F for 10-12 minutes or until the egg is fully set. Depending on what you pour the mixture into can affect the cooking time.
Serve immediately
Substitutions
If you want a substitution for this omelette, you can try to make this recipe with egg whites. If you are wanting to substitute the sausage you can try your favorite meats like ham or turkey or even bacon!
Place around with the cheeses too, maybe Swiss cheese, cheddar or gruyere.
What to serve with Air Fryer Omelette
This 3 egg omelette in the Air Fryer can be served with salsa, sour cream, avocado, sliced green onions or your favorite omelette toppings.
Kick up the heat and serve it with your favorite hot sauce. I'm a baby and just use milk taco sauce.
You could also try to top your omelette with these Air Fryer peppers and onions if you're trying to increase your vegetable and fiber intake. If you're looking for more protein and fat, serve it with bacon and breakfast sausage.
If you aren't looking for a low carb option then you can serve this recipe with some Roasted Potatoes and Green Beans.
Another low carb option could be these Keto hash browns. Whatever you choose, it's a great start to a healthy breakfast.
How to store
Store any leftover omelet in an airtight container for 2-3 days, but I would try to eat it the next day for best texture.
How to reheat
Remove the lid from the container and microwave on high for 1 minute or until the omelette is warm. You may also transfer the omelette to a microwave safe dish to warm up.
What is the best temperature to cook an omelette?
I cook my omelette in the air fryer at lower temperatures than I cook most foods. I cook omelettes at 350F instead of 390/400F so that the eggs can properly set and not dry out.
Is it better to cook with butter or oil?
Personally I prefer to line the air fryer with parchment paper or use a non-stick pan and spray with avocado oil. You could also use melted ghee, tallow or lard in a pinch too. I would avoid using melted butter at high temperatures.
Can You Freeze Omelettes?
You can freeze omelettes but I wouldn't recommend it. I prefer to eat leftover eggs or omelettes within a few days and store them in the fridge.
Can You Make an Omelette in an Air Fryer?
Yes, scroll down just a little bit further for my detailed directions on how to air fry an omelette.
More delicious egg recipes to try
If you loved this air fryer omelet recipe, check out these other delicious egg recipes.
Air Fryer Omelette
You will be surprised how easy it is to prepare an omelette in the Air Fryer. This Air Fryer omelette is simple and healthy breakfast option. Perfect for a quick and delicious breakfast on those busy mornings.
Ingredients
3

eggs

¼

teaspoon

salt

⅛

teaspoon

black pepper

¼

cup

Bell peppers

Diced

¼

cup

Colby jack

2

breakfast sausage

Diced
Instructions
In a medium mixing bowl add in your egg, salt, and black pepper. Whisky together

Slice your breakfast sausage and add them in. Dice your peppers and add them in. Add in the cheese and mix them all together.

Line your air fryer basket with parchment paper or insert an oven safe dish such as a push pan or pyrex bowl. Spray with oil. Add in the egg mixture.

Cook at 350 F for 10-12 minutes or until the egg is fully set

Serve immediately
Nutrition
Calories:
250
kcal
Carbohydrates:
2
g
Protein:
17
g
Fat:
19
g
Saturated Fat:
8
g
Polyunsaturated Fat:
2
g
Monounsaturated Fat:
7
g
Trans Fat:
0.1
g
Cholesterol:
281
mg
Sodium:
663
mg
Potassium:
222
mg
Fiber:
0.4
g
Sugar:
1
g
Vitamin A:
1125
IU
Vitamin C:
24
mg
Calcium:
155
mg
Iron:
2
mg
PIN THIS RECIPE FOR LATER