THIS POST MAY CONTAIN AFFILIATE LINKS. PLEASE READ MY DISCLOSURE POLICY FOR MORE INFO.
The information in this post will change your life…..well, it did for me and a few of my friends. Keep reading to learn how to boil farm fresh eggs so they peel easily.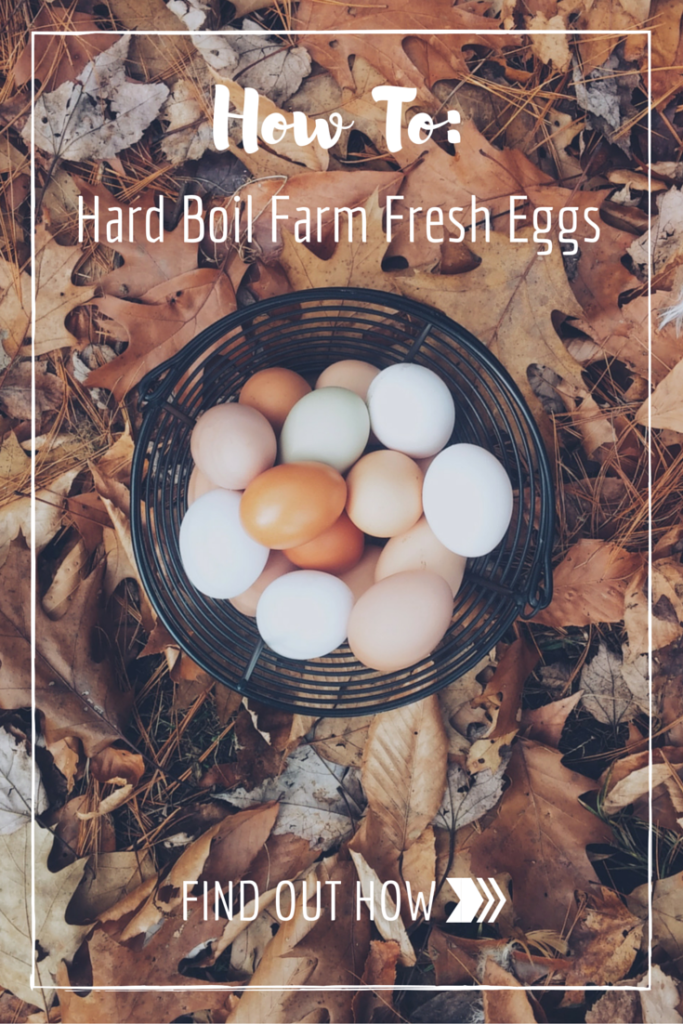 I never knew there was a difference between hard boiling farm fresh eggs and hard boiling eggs that you buy in a supermarket. All I knew is that I wasn't very good at hard boiling eggs… period. Up until about 2 years ago I was boiling my eggs and usually throwing away half of the whites because they would be stuck to the shell. I finally got fed up with it and decided there must be a better way than just adding eggs to boiling water, boiling them until I thought that they were done and removing them with a spoon while trying not to get burnt.
So I sat at my computer, probably like you did to get here and typed into the all knowing google search engine "how to boil farm fresh eggs." Let me tell you, I ran across a bunch of different ways to hard boil eggs and none of them seemed to give me good results. Sometimes it would work out perfectly and others I end up with an egg with huge craters missing out of it (you know what I talking about).
So this Wednesday I got my hair done (thank you M., I was in dire need) and I asked my hair dresser if she had any extra eggs. She has the cutest little chickens in her back yard and they are super kid friendly.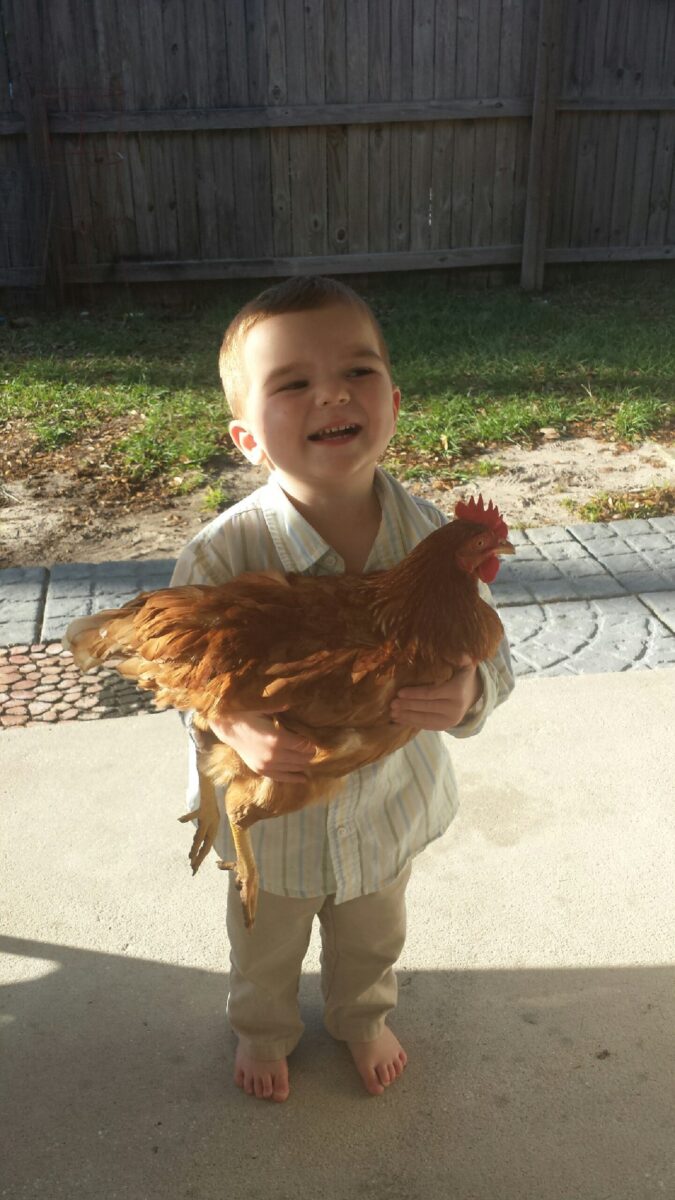 I was in luck. She had a couple extra dozen eggs, so I gladly took a dozen off her hands 🙂
Aren't these the cutest chickens you've ever seen! They aren't even bothered by the cat and the kids love them!
Ok, back to the story…..She then asked how I cook my eggs. Simple enough question. Most of the time I cook them over hard because I meal prep them for breakfast a couple days ahead and other times I hard boil them and make egg salad or slice them up and put them in a salad. She then told me that her and her neighbor love her fresh eggs but can't hard boil them because they lose half of the egg in the shell. She then tells me that she has no problem hard boiling grocery store bought eggs but neither her nor her neighbor can figure out a way to boil farm fresh eggs them without losing a lot of the egg.
True story: She had given up on hard boiling them because she thought that she would never be able to hard boil farm fresh eggs because they were, you know too fresh. *Horns and Whistles blowing* Lara to the rescue!
[bctt tweet="How to Boil Farm Fresh Eggs http://wp.me/p5MgFT-kj #fresheggs #foodie"]
The picture below is of the eggs from the hen house put directly into the egg carton without being washed off to make them last longer. You need to wash them when you are ready to cook them.
The last couple of dozen farm fresh eggs that I have gotten, I got from a friend at my gym and I had just cooked them all over hard for meal prep and I never hard boiled any of them so I didn't know if my mix matched way of boiling supermarket eggs would work on farm fresh eggs. Well it did! So I called her up, well I texted her and sent her this picture.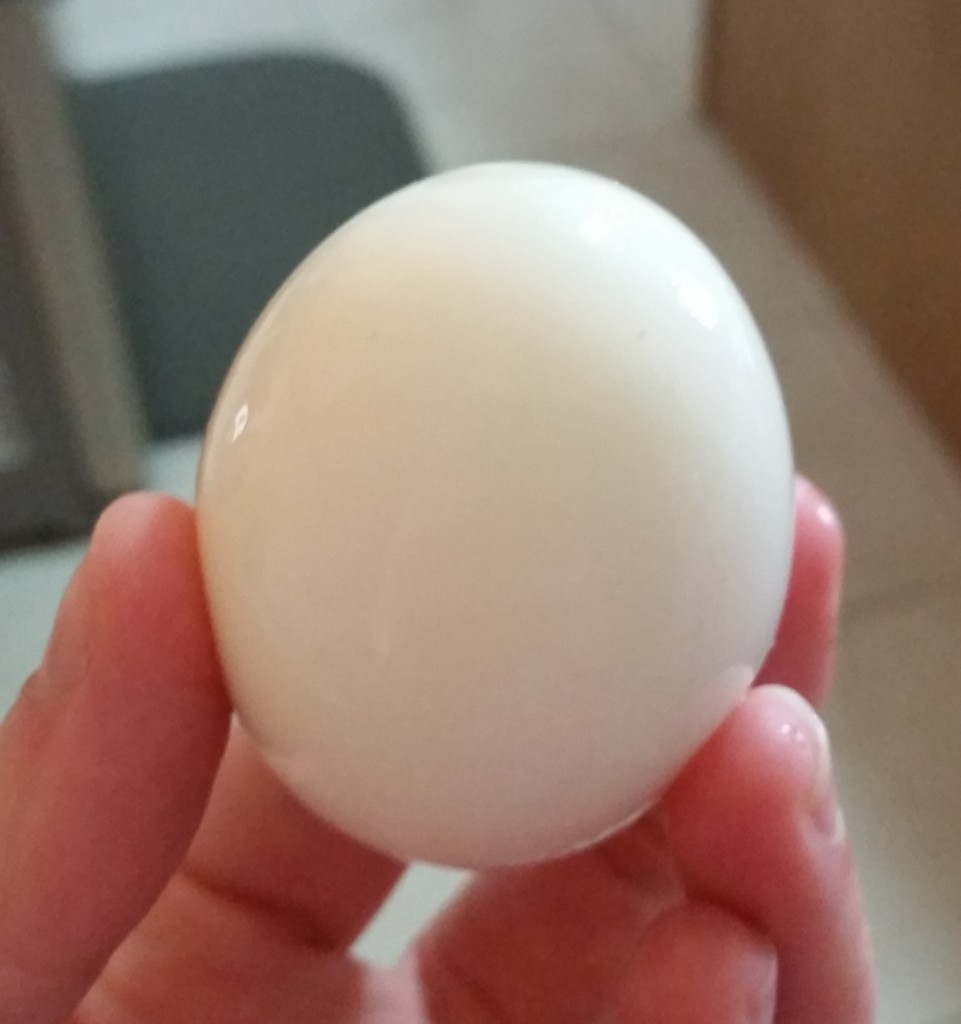 Ta da! It worked! Flawlessly! I only hard boiled 4 eggs in that batch since I didn't need many for meal prep. I shucked the one I sent her a picture of and I put the other 3 in the fridge. Big mistake. 3 hours later when I went to shuck the eggs, they were stuck, mini craters appeared all over my eggs.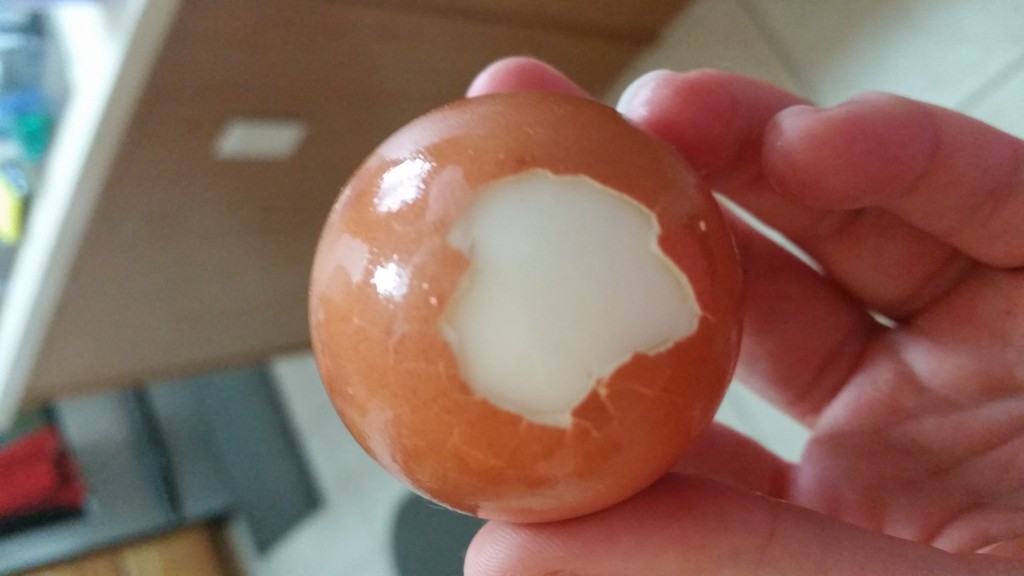 Moral of the story. Shuck all of the eggs immediately after the cooling procedure finishes.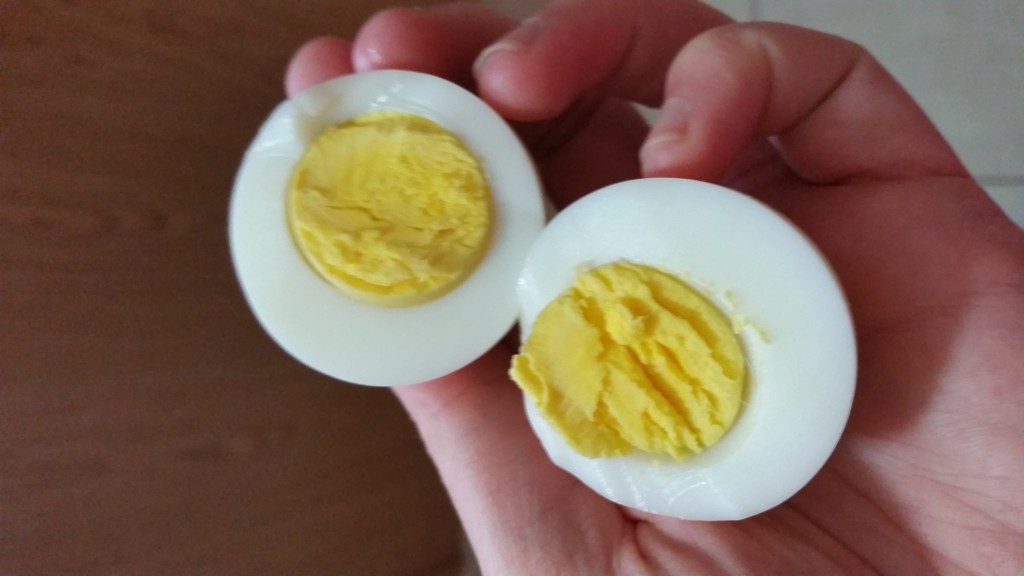 I took a lot of pictures, because if you're a skeptic like me you'll need lots of convincing! Yes, is does work, but you must follow the instructions exactly!!!
Now to the good stuff, "How To Boil Farm Fresh Eggs"
First get a large sauce pan with a tight-fitting lid
Put desired eggs in the saucepan.
Fill the saucepan with room temp water about 1 inch above egg.
Add 1 tablespoon of Apple Cider Vinegar (Affiliate link). You may also substitute for white vinegar.
Cover saucepan and turn on high
Bring to a boil (covered) and boil for 1 minute.
Completely remove from heat for 1 minute (Leave you burner on high and place saucepan off to the side).
Add the saucepan back to heat and boil for 1 minute.
Turn the heat down to simmer and simmer for 10 minutes. Still don't remove lid.
After 10 minutes remove the saucepan from the burner and drain off the water.
Put cold water and ice in the saucepan
I tend to put 3-4 cups of ice, just enough to cool the water down so the ice isn't completely melted
After about 10 minutes, remove the eggs from the ice bath and start shucking, and shuck them all immediately or they will be full of craters.
Let me know how my method worked for you in the comments below 🙂
Disclosure of Material Connection: Some of the links in the post above are "affiliate links." This means if you click on the link and purchase the item, I will receive an affiliate commission. Regardless, I only recommend products or services I use personally and believe will add value to my readers. I am disclosing this in accordance with the Federal Trade Commission's 16 CFR, Part 255: "Guides Concerning the Use of Endorsements and Testimonials in Advertising."