Make your family this super easy Keto Instant Pot Cheesecake recipe! They won't be able to taste the difference between this low carb cheesecake and the real thing! Plus the keto cheesecake crust recipe is insanely easy to make, you'll never easy a crustless cheesecake again!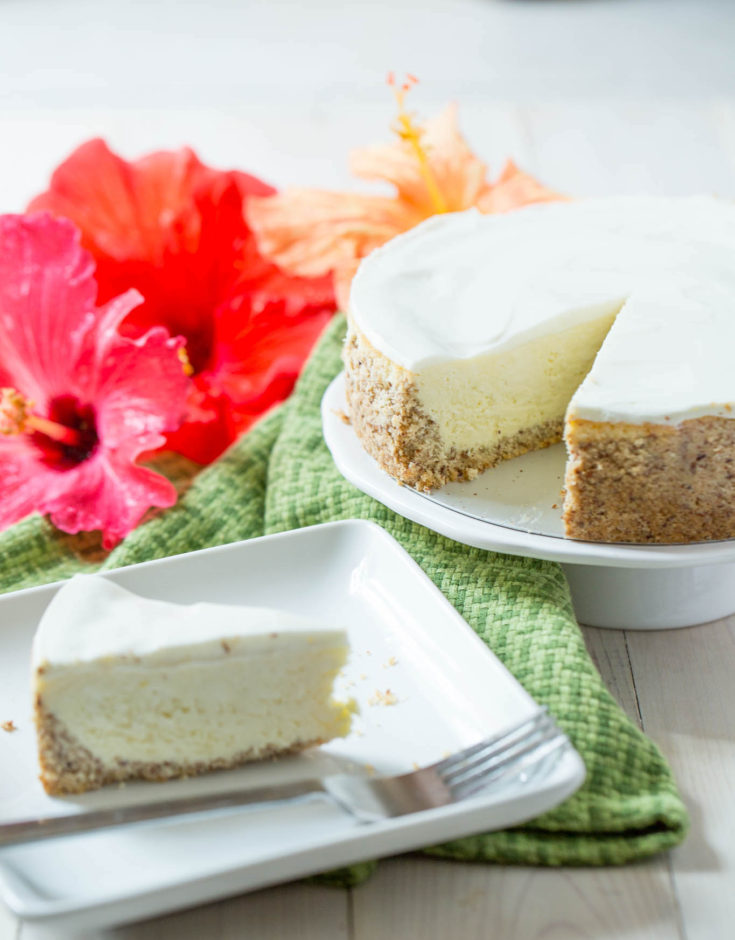 Instant Pot Keto Cheesecake Recipe
One of my favorite carb laden desserts of all times for sure is a traditional cheesecake! I used to make the treck to Orlando just to go Cheesecake Factory and chow down on the chocolate chip cookie dough cheesecake.
Those were the good ole carb loving days.
Now I haven't been to the Cheesecake Factory in over a year and a half, but that doesn't mean I haven't had cheesecake since then. They seriously have the best regular cheesecake though!
Now I'm not saying that I've had full sugar cheesecake, but instead I've created my own sugar-free cheesecake recipe, but with a twist!
It's not a pumpkin cheesecake, no bake cheesecake or an oreo cheesecake. It's a super easy Keto Instant Pot Cheesecake. The best cheesecake IMO!
This is the Best Keto Cheesecake recipe and cooks in a fraction of the time! This instant pot cheesecake recipe is super low in carbs (even less if you omit the keto cheesecake crust recipe) so you can enjoy your dessert and stay in ketosis too!
You may also like this protein cheesecake recipe, it's also low carb!

It's been a lot easier than I thought sticking to a low carb diet while all of my friends still eat a bunch of starchy foods. Whenever I attend our parties I always bring over a low carb dessert plus wine hahaha. Most of the time they can't taste the difference, but they always know it's low carb because I brought it.
Is Cheesecake bad for Keto?
Not necessarily! If you crave sweets, having this keto cheesecake on hand can be helpful. Instead of having a sugary dessert, you could have a slice of this low carb cheesecake instead.
If you are a person that has a very addictive personality and a big sweet tooth, it may be best to avoid this keto cheesecake because it is so delicious. You might end up eating the entire cheesecake in one sitting!
Does Cheesecake Factory have a Keto-friendly Cheesecake?
Cheesecake Factory has a low carb cheesecake. On their website it does not have nutritional values so I'm not sure if it would be a keto cheesecake. It says it has a "Graham-Walnut Crust."
Can you eat cream cheese on a keto diet?
As long as you don't have a food allergy or a food sensitivity you should be able to have cream cheese on a keto diet. Cream cheese is low in carbs making it a great staple for many keto recipes!
Also, please note - the cream cheese for this recipe needs to be room temperature. Having the cream cheese room temperature makes it mix easier and the batter for the keto cheesecake filling will be less lumpy.
Low Carb Sweetener Alternatives
The most commonly used low carb sweeteners are liquid stevia extract, erythritol and Swerve. Since this keto cheesecake post was originally posted, a few new sweeteners have hit the market and are more readily available.
Granulated Monk Fruit Erythritol Blend
Granulated Allulose Sweetener
Granulated Monk Fruit Allulose Blend
Powdered Monk Fruit Allulose Blend
Powdered Monk Fruit Erythritol Blend
Powdered Allulose
Powdered Erythritol
Granulated Erythritol
Keto Cheesecake Crust Ingredients
This is a mixture of an almond flour crust and a coconut flour crust. I've found that a blend of the 2 provides the best crust texture - other than a high carb graham cracker crust that is! And obviously we're making low carb recipes so we'll omit the graham crackers which may spike your blood sugar because of the added sugars.
Below are the ingredients used in this low carb cheesecake crust:
almond flour
coconut flour
melted butter
vanilla extract
granulated erythritol
Keto Instant Pot Cheesecake filling and toppings ingredients
cream cheese
powdered erythritol
vanilla extract
lemon juice
lemon zest
heavy whipping cream
eggs
sour cream
Keto Cheesecake Crust Recipe
This keto cheesecake crust is a mixture of almond flour and coconut flour, mixed with butter and sweetened with granulated erythritol. You can also make a cheesecake crust from ground up nuts, if you want more texture. Either option is low in net carbs.
To make this recipe even lower in net carbs, simply omit the cheesecake crust recipe.
HOW TO MAKE KETO INSTANT POT CHEESECAKE
This is a super easy low carb cheesecake recipe, you won't even need a food processor to make the crust! I'm not into super complicated recipes because aint nobody got time for that 😉
Firstly, the low carb cheesecake crust is totally optional. If you wish to omit the cheesecake crust you can and it turns into a crustless cheesecake.
KETO CHEESECAKE CRUST RECIPE
If you want to make the low carb cheesecake crust it's simple. First combine all of the cheesecake crust ingredients into a bowl. Mix them well (everything should be crumbly.)
Next take the crust mixture and press it into a 6inch springform pan or push pan. These are the 2 instant pot cheesecake pans I use. The one thing I hate is when your cheesecake sticks and then it's not pretty anymore!
Some people line the bottom of their pans with parchment paper, I do not. It's all a personal preference. Adding parchment paper can make it easier to slice and remove individual slices of cheesecake.
KETO CHEESECAKE FILLING RECIPE
First, mix together the cream cheese, erythritol, vanilla extract, lemon juice & zest, and heavy cream in a stand mixer or add them to a large bowl and mix with a electric mixer.
One at a time add the eggs to the mixer and blend until until smooth (may still have a few lumps in it). It should have a nice creamy texture.
Now you need to transfer the cheesecake filling to your cheesecake pan and loosely place foil on top. Some people say to put a paper towel on underneath the foil to help absorb moisture, but there's almost always still moisture plus you're going to be adding a topping to it so I just skip that part.
Now you can place you Instant Pot trivet in the bottom of your instant pot. The add 1 cup of water to the Instant Pot.
Next carefully lower your keto cheesecake onto the trivet. I use these awesome stretchy bands, but if you don't have those you can make a sling from aluminum foil and gently lower it onto the trivet.
Place the lid on the instant pot. Make sure the valve is set to sealed. Press "manual" for 34 minutes. Make sure you are on HIGH PRESSURE.
You will let it come to pressure and then cook for 34 minutes. After it starts to beep, let the Instant Pot naturally release the pressure. This should take between 20-25 minutes. If it takes longer you can manually release the rest of the pressure.
While the cheesecake is cooking, in a bowl mix all of the keto cheesecake topping ingredients and set aside.
After all of the pressure is gone, carefully remove the Instant Pot lid and remove the keto cheesecake from the stainless steal inside bowl. Remove foil from the cheesecake and blot off any water from the center of the cheesecake.
Next, spread the low carb cheesecake topping onto the cheesecake (cheesecake should still be hot and wiggly in the center).
Cover the keto cheesecake with foil (with or without paper towel) and place in the fridge over night (or at least 6-8 hours)
Boom! Simple as that. The best part is there is no need for a water bath in the oven to cook your cheesecake.
No extended cooking time. Just plain ole, delicious Instant Pot low-carb cheesecake!
If you're feeling for a decadent treat, you can even top this cheesecake with fresh berries like sliced strawberries or raspberries and shaved 90% dark chocolate! You're non-keto family members will love this recipe as well.
RECIPE NOTES
Per serving there is 5 grams of net carbs
Recipe makes 10 servings
If you don't have granulated erythritol, you can substitute granulated Swerve 1:1 and the same goes with the powdered version of the sweeteners.
You can substitute the melted butter for melted coconut oil if you can't have any butter on hand
If you love you Instant Pot like me, then you'll probably love these other instant pot recipes below.
Other Instant Pot Recipes you may like
I recently made this low carb pot roast for dinner which I made in the Instant Pot and it came out freaking amazing!
I substituted the potatoes for radishes which reduced the carbs, as well as omitted the flour that is usually used to thicken the broth. Both of these substitutions significantly reduced the carbs of this meal which made it a keto friendly dinner option!
Keto Cheesecake Recipe made in the Instant Pot
For this keto cheesecake recipe, I needed a little help since before I had only made a high protein cheesecake recipe (not in the instant pot), back in my IIFYM days.
I combined this primal cheesecake recipe and this gluten free sugar free cheesecake recipe and adjusted the crust recipe and then added or removed ingredients depending on what I had on hand.
If you want a good laugh, look at that recipe and check out my photography and blogging skills! I think I used my cell phone and didn't even have a recipe plugin!
If you're not concerned with carbs, I highly suggest using this Egg Yolks Lemon Curd on this cheesecake! The flavor is insane!
More Cheesecake Recipes
If you loved this Keto Instant Pot Cheesecake recipe, check out this delicious Japanese Cheesecake and this protein cheesecake.
Keto Cheesecake Recipe made in the Instant Pot
Make your family this super easy keto cheesecake made in the Instant Pot. They won't be able to taste the difference between this low carb cheesecake and the real thing!

Ingredients
Crust
⅔

cup

almond flour

⅔

cup

coconut flour

⅓

cup

butter

melted

1

teaspoon

vanilla extract

2

tablespoon

granulated erythritol
Filling
16

oz

cream cheese

room temp

½

cup

powdered erythritol

½

teaspoon

vanilla extract

Juice of ½ lemon

Zest of 1 lemon

¼

cup

heavy whipping cream

3

Eggs

room temp
Topping
½

cup

sour cream

2

teaspoon

powdered erythritol
Instructions
In a bowl combine all crust ingredients. Mixture should still be crumbly. Press mixture into a

spring form

or

push pan

. I lined the bottom and the sides.

Mix together cream cheese, erythritol, vanilla extract, lemon juice & zest, and heavy cream in a

stand mixer

or with a

hand mixer

.

One at a time add eggs to mixer and blend until until smooth (may still have a few lumps in it). Some other recipes I've read said that if you over mix it you will have a lumpy cheesecake, I didn't find this to happen when I turned my kitchenmaid on high and blended for a few. I wanted to get those lumps out hahaha.

Transfer mixture into your lined

cheesecake pan

and loosely place foil on top. Some people say to put a paper towel on underneath the foil to help absorb moisture but there's almost always still moisture plus you're going to be adding a topping to it so I just skip that part.

Place your trivet in you instant pot and then add 1 cup of water to instant pot.

Place the lid on the

instant pot

. Make sure the valve is set to sealed. Press "manual" for 34 minutes. You will let it come to pressure and then cook for 34 minutes. After it starts to beep, do 24 minutes "NPR" (natural pressure release).

While the cheesecake is cooking, in a bowl mix all of the topping ingredients and set aside.

After the cheesecake has done 24 minutes NPR, carefully release the valve (QPR) to let our any remaining pressure. Remove the lid once the pressure is released.

Remove the cheesecake from the

instant pot

. Remove foil from pan, blot off any water from the top of the cheesecake.

Spread topping onto the cheesecake (cheesecake should still be hot and wiggly in the center)

Add foil (with or without paper towel) to cheesecake pan and place in fridge over night (or at least 6-8 hours)
Notes
Serves 10. Nutrition information per serving: 322kcals, 8g protein, 8g carbs, 3 g fiber, 5g net carbs, 30g fat
Nutrition
Serving:
0
g
Calories:
322
kcal
Carbohydrates:
8
g
Protein:
8
g
Fat:
30
g
Saturated Fat:
17
g
Cholesterol:
129
mg
Sodium:
246
mg
Potassium:
101
mg
Fiber:
3
g
Sugar:
2
g
Vitamin A:
1030
IU
Vitamin C:
0.1
mg
Calcium:
86
mg
Iron:
0.9
mg