There's only a few more days until Christmas! Have you gotten your gift for your keto eaters? If not, you're in luck! This Last Minute Christmas Keto Gift Guide is just what you need! It includes Keto gifts perfect for any occasion.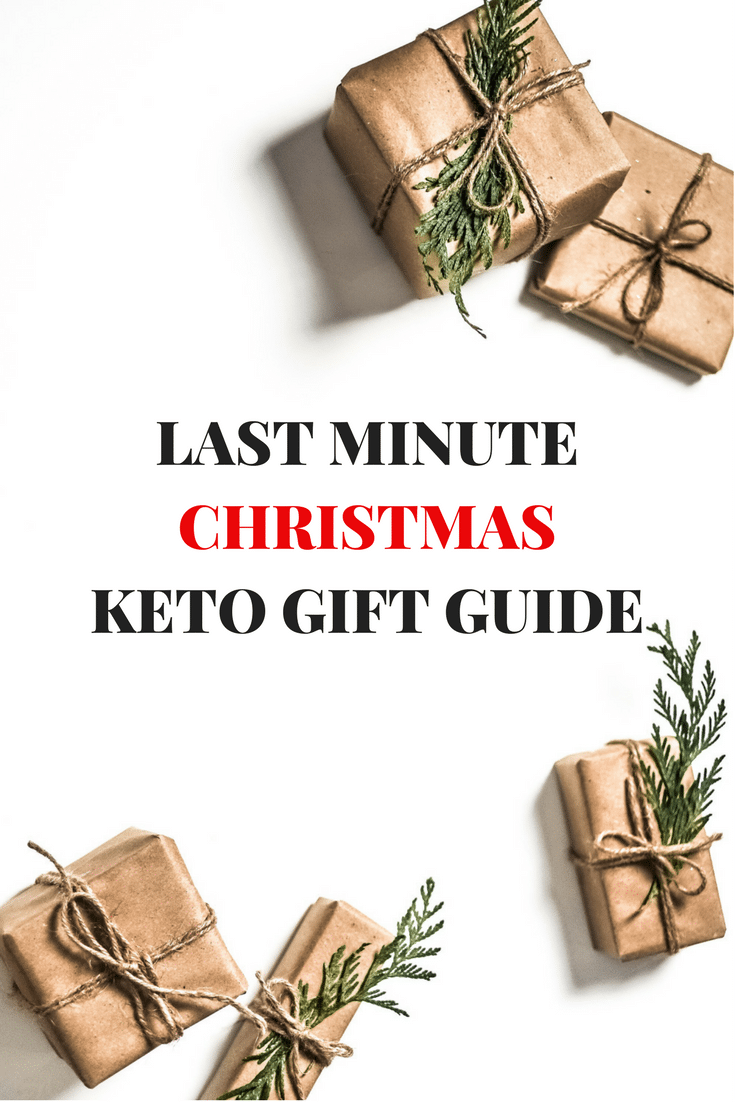 If you're reading this, I guess I'm not the only one who hasn't finished their Christmas shopping yet…or started!
I know. I'm terrible. I'm the kind of person who would rather get money as a gift to pay bills or buy really nice food or wine instead of getting a gift…so naturally that's what I tend to give as gifts as well…
Except my parents wanted to do something a little bit different this year.
For my parent's Birthday + Anniversary gift this year I bought them annual passes to Disney because my mom is a total Diseny fanatic and I think my dad just goes along for the food, drinks and flowers.
They live about an hour and a half away from Disney so they can just take a day trip in the middle of the week while schools in session to beat the crowds which they absolutely love!
I've gotten a little burnt out on Disney and tend to only go for the Food and Wine or Flower and Garden Festivals, unlike my friends Erica and Faith who go at any chance they can get LOL.
So onto my last minute keto gift guide where you can purchase a lot of these items on Amazon and have them delivered with prime or they're subscription based services and you can buy a month of something for a gift for friends and family (or yourself like I do hahaha).

Last Minute Christmas Keto Gift Guide 2017
So, first off I'm going to start with practical keto items that I use every day.
1) Cold Brewed Ice Coffee to make my keto coffee in the morning. So a gift card to publix would be perfect so I can get the coffee and my organic heavy whipping cream!
2) MCT oil powder and MCT oil powder. I really like Perfect Keto Brand. Their MCT oil powder mixes easily with hot or cold liquids and is great to take with you while traveling. You don't have to worry about liquid leaking everywhere!
3) Collagen Peptides I add this along with my HWC, Protein Powder, MCT oil, MCT oil powder to my coffee. I've really noticed that my hair and nails grow a lot quicker and I feel that my skin is getting clearer but that might just be the keto diet in general. I've tried 4-5 different varieties and I've seen good results with them all! So just chose whichever one fits best in your budget!
4) On days when I'm super short on time, I've recent fallen in love with Ancient Nutrition Chocolate KETO Protein Powder. It's high in fat, moderate in protein and low in carbs and it is made with bone broth, MCTs, collagen peptides and has adaptagens. It combines basically #2 & #3 so it saves me a few steps in the morning!
5) Butcher Box…..Grass-fed and grass finished meat delivered right to your door! Enough said! But if you want to know more, you can customize your box to include pork and poultry, add sides like bacon and burgers like I did! Check back soon for my video review of my box! If you use my referral link you'll get $10 off your first box plus FREE Bacon. You can also use my link to sign up for their affiliate program where you earn $43 for every person who signs up. Make money and enjoy a product that you truly love?!! WIN WIN in my book!
6) There are now a bunch of different keto subscription boxes out there like:
…these are awesome ways to try new foods that are coming out in the keto world and to spotlight small and rising companies.
7) Keto Snacks and pantry items:
These are all non-perishable keto foods that are perfect for traveling and make great gifts.
8) A share at a local Co-op for seasonal veggies—there are so many different ones down south in Florida near me!
9) When all else fails—gift cards. Amazon or places to my favorite restaurants or coffee shops 🙂
I hope this Last Minute Christmas Keto Gift Guide was of some help. If not as a Christmas gift, any of these would make a nice present for any occasion!