Today's post is all about the best keto diet snack ideas for traveling that I wish I had during my last 2 months of insane, action packed, non stop go-go-go traveling. And I'm gonna keep it (well try to) short and have individual recaps of what I've been up to later on since my absence here.
Hey guys! Sorry I've been MIA! These last 2 months I've been to 3 conferences, 1 workshop, 3 states plus working my normal 9-5 job with my side hustles---more on these later.
The first conference I went to was Media Vine in Charleston and omg Charleston is such a cute little town and I can't wait to go back! I'm completely obsessed with red brick and there was no shortages of those. Also, surprisingly Charleston was a very popular bachelor and bachelorette scene so there was definitely some interesting people watching to be had. And like in a normally foodie fashion, we ate our way through the new and inviting town!
Next was my workshop, at DISNEY WORLD! Now, many of you guys know I'm not a huge Disney fanatic---That would be my mom, but if we did this type of Disney trip I'd be back in a heart beat! This workshop---Capture The Bite, was put on by Faith a lawyer turned food blogger and her site is An Ediable Mosiac and Julius from Droolius--as his name implies, his food photos will make you drool! This was an amazingly coordinated food photography and food styling workshop where we visited a bunch of parks, hotels, behind the scenes areas and learned all about techniques, lighting, styling and so much more. This was truly a once in a lifetime opportunity! Full recap to come because there's way more that happened than in this slight teaser.
After that we packed our bags and jumped on a plane bound for Salt Lake City. This trip, we attempted to turn into a vacation because literally every other weekend I was away for at least 3 or 4 days at a time. So we rented hybrid bikes and explored the city for the first 3 days. Literally, my butt was killing me because we averaged ~25 miles per day those first 3 days. We stayed at an airbnb in the suburbs, and on conference days took an uber into town because we didn't want to be hot and sweaty for the conference--no thank you! SLC was gorgeous! So green and the people were so nice and there was NO HUMIDITY. It kinda makes me wanna more there just for that. Also, on the second to last day there we decided to drive through the mountains to Park City Utah and discovered that the road was closed due to snow and ended up having to trek back down the mountain and take the highway there.
On the last day the girls wanted to drive to the Bonneville Salt Flats and we were so close to Nevada we decided to extend our journey a bit further so they could grab a pic of them straddling the border. So much happened but you'll have to wait for the full recap---plus I made videos---my first attempt at vlogging hahaha. Side note--is Vlogging pronounced like blogging with a 'V' or 'V + Logging.' I'm so lost when it comes to new technology these days.
Literally 10 days after that I'm back in Orlando for my 3rd year at the Food Wine Conference. This year was a little different because I was doing all the photography, and holy crap was my back killing me just after day 1. 3 memory cards later, I finally got everything edited. Now all I have to do is edit all the photos and videos I took during the last 2 months..........
Now onto my side hustles. If you've been following me on Facebook and Instagram while I've been absent here, you'll have seen I started to follow a ketogenic diet and start to take exogenous ketones. OMG! Where have these been all my life!
One thing about following a keto diet is that you need to be prepared, and pack lots of keto diet snack ideas whenever traveling so you don't kick yourself out of ketosis. Ketosis is a state in which you are primarily burning fat and ketones for fuel. I try to keep my carbohydrate intake to around 20g net carbs (total carbs-fiber-sugar alcohols=net carbs). My carbs are mostly in the form of green leafy veggies, avocado, coconut, coconut or almond flour, and cocoa powder. Some of the ketones have just a few carbs depending on what flavor I'm having.
One of my favorite keto diet snack ideas I love are cold cuts, but they're not practical to have on hand while traveling. I love jerky too, but it's really hard to find a good quality product and I was super excited when I got to try Lorissa's Kitchen Strips and Cuts!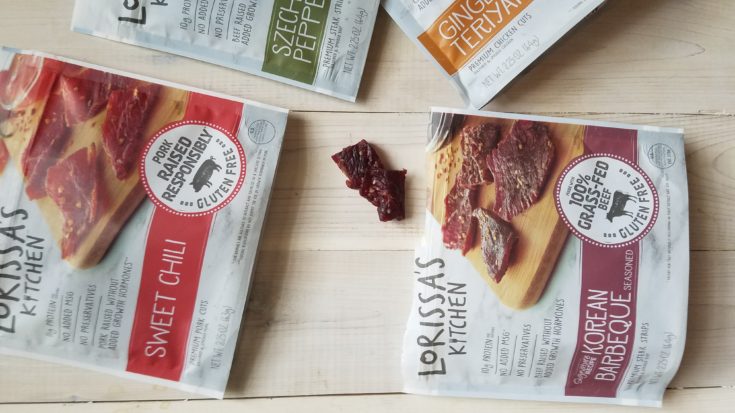 Why they make a good keto diet snack idea
Because they taste AMAZING!
They're made with 100% grass-fed beef (you know how I LOVE my beef!) & antibiotic free chick and pork,
They're Gluten-Free and preservative free!
No added growth hormones or MSG,
They have 11g of protein per serving and only 6-7g of carb per serving.
They are EASILY resealable, not cheap and junky like other brands so they stay super fresh!
They come in a bunch of flavors so you'll never get bored
And Lorissa's Kitchen is hooking all you lovely readers up with a 20% off Amazon purchase through this link.
Also, they have a GIVEAWAY going on right now for 10 packages of their meat snacks and a tote bag. Enter now before it's too late!
I so wish I had these bad boys with me on my last 2 months of crazy travels.
Other keto diet snack ideas for traveling
Nuts
Whole Avocados
Single serve packets of nut butters
Canned sardines
Yay, none of those will probably taste as good as Lorissa's Kitchen though LOL.
Until next time folks!
Follow me on Instagram and Facebook and message me if you want to join my SECRET Facebook support group for those that want to follow a keto diet.