THIS POST MAY CONTAIN AFFILIATE LINKS. PLEASE READ MY DISCLOSURE POLICY FOR MORE INFO.
Beat the heat with this nice refreshing Peach, Blueberry and Spinach Power Smoothie. It's naturally sweetened, and packed full of fiber, protein and antioxidants which makes this delicious smoothie that much more desirable.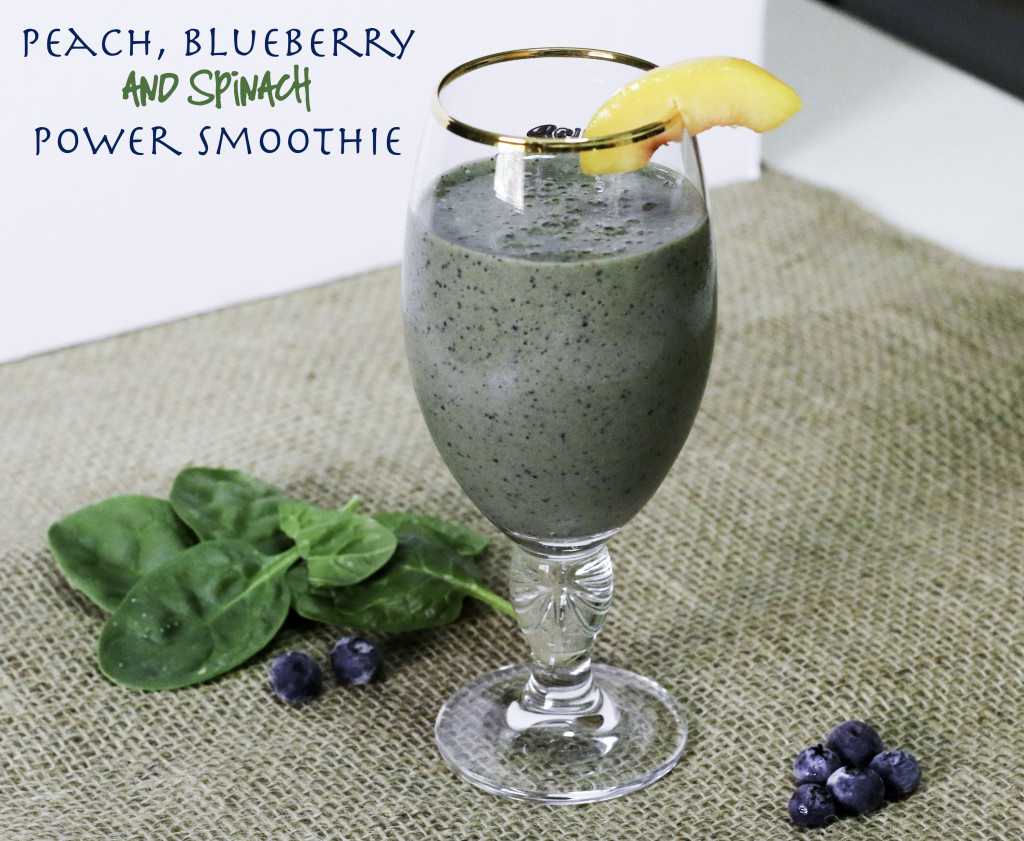 This Florida heat has been a killer this year! It's been so hot that my tomato plants will bloom, but then they won't form the fruits because of the heat. The same with my blueberry bush and blackberry vine. I think I maybe got like 10 berries off of each of them before the heat got unbearable.
With that being said, I still love to make smoothies but I have been having to resort to store bought fresh berries or frozen berries to make my smoothies. They just don't compare to when you actually pick them from your own garden.
I'm not sure if it's a placebo effect or if I actually can grow them sweeter and juicier than the ones that you can buy in the store. On another note, my vertical tower garden is still hanging in strong! I'm growing basil, thyme, rosemary, stevia, a couple kinds of mint, catnip, and a bunch of ornamental succulents.
We cook with the basil almost every night and it just makes the recipes POP! My favorite is to add it to homemade pizza. Whenever I make pizza Aaron goes on a kick and wants me to make it every night. I've definitely mastered a kick ass pizza recipe. It rivals any fancy smancy pizza that you can buy in a restaurant. I love to my pizza with balsamic glaze!
Since it's been so hot out I've been addicted to making big fruity smoothies! I've been making one almost every day after the gym. Aaron and I made the switch this week to the LA Fitness. We are definitely going to miss all of our friends at our small family owned gym, but it was just getting too crowded since they started doing MMA there in addition to it being a regular gym.
[bctt tweet="Beat the heat with this delicious Peach, Blueberry and Spinach Power Smoothie #MeatlessMonday #PowerSmoothie"]
They did have some down sides like only having 1 squat rack, 1 bench, and one smith machine, but I was able to overlook that because it was so close to my work and I would just go before or after work. But now with the MMA and Pete White's boxing going on at the gym it's super crowded and unfortunately starting to smell pretty bad too where all of the sparing takes places. So that's what finally made us leave.
Now we are driving a little farther but we are getting so much more. The LA Fitness is huge! It also has classes, a pool, sauna, basketball court, racquetball court, a separate studio for classes and another one for spin, and a whole area devoted to stretching. It's pretty unreal, and for only $5 more per month it was really a no brainer. It is totally worth the drive and we have been getting in much better workouts too!
I've been doing workouts from my 12 Weeks to Fit Ebook and it will going on sale to the general public soon! $25 gets you 12 weeks of workouts and a healthy eating plan. It teaches you how to calculate how many calories, grams of carbohydrates, protein and fat you need to consumed daily to meet your goals. It teaches you how to eat for life without having any food restrictions (unless you have any dietary restrictions/allergy then you can modify this plan to meet your needs).

Peach, Blueberry and Spinach Power Smoothie
Ingredients
1/2

cup

peaches

1/2

cup

blueberries

2

cups

spinach

2

scoops Vanilla Gnarly Whey

1

cup

coconut/almond milk

1

cup

ice
Instructions
Combine all ingredients in a blender and enjoy!
I use
Gnarly Whey
in my recipes, but you can substitute any protein powder that has about 20-25g of protein per serving, or you can omit the protein all together. It's entirely up to you!
What is your favorite type of smoothie?
Disclosure of Material Connection: Some of the links in the post above are "affiliate links." This means if you click on the link and purchase the item, I will receive an affiliate commission. Regardless, I only recommend products or services I use personally and believe will add value to my readers. I am disclosing this in accordance with the Federal Trade Commission's 16 CFR, Part 255: "Guides Concerning the Use of Endorsements and Testimonials in Advertising."