THIS POST MAY CONTAIN AFFILIATE LINKS. PLEASE READ MY DISCLOSURE POLICY FOR MORE INFO.
Following a keto meal plan may seem difficult. That's why I've started to make these keto weekly meal plans using your Instant Pot to help simplify things.
This is the fourth of these keto weekly meal plans. Some feedback I received from the first is that not many people will be making all of the recipes for the week so I've opted to skip the grocery lists.
I will continue to calculate the macros for each recipe if they are not provided on the blogger's own website. This is so that you can see if these meals will fit in line with your nutrition plan (if you're following one).
Each week I will be rounding up different keto dinner recipes that can easily be made in an Instant Pot or pressure cooker. Sometimes I'll include a breakfast or dessert recipe for the weekend if they seem interesting!
Free Keto Meal Plan
Meal Planning and meal prepping make following a keto diet so much simpler! Each week I'll be sharing delicious keto Instant Pot recipes with macros so you can bring more variety to your weekly meals.
Keto Weekly Meal Plan #4
Monday – Lamb Curry with Cauliflower rice
Tuesday – Low Carb Chili
Wednesday – Chicken Breasts and Gravy with green beans
Thursday – Low Carb Paleo Butter Chicken
Friday – Shredded Beef over zoodles
Saturday – Cabbage Soup with ground beef
Sunday – Low Carb Pot Roast
Want more Low Carb Instant Pot Recipes? Every week I'll be sharing more Instant Pot Keto Meal Plans. If you want to be notified when they're available, sign up for my mailing list.
Lamb Curry. Lamb curry with coconut milk – tender, juicy lamb chunks infused with aromatic spices in a rich curry sauce, and topped with spinach and bell peppers. Sooo finger-licking good!
Macros: 488kcals, 10g carbs, 3g fiber, 7g net carbs, 47g protein, 28g fat
Low Carb Chili. This Instant Pot Low Carb Beef Chili Recipe (Beanless Chili) is perfect football food for game day, and it's hearty for a fall or winter dinner. Leftovers reheat well, and this also freezes well!
Macros: 405kcals, 8g carbs, 2g fiber, 6g net carbs, 30g fat, 25g protein
Chicken Breasts and Gravy. Learn how to make the perfect Instant Pot Chicken Breasts & Gravy with these simple tips that will flavor your chicken from the inside out. These are the most flavorful and juicy pressure cooker chicken breasts.
Macros: 378kcals, 4g carbs, 0g fiber, 15g fat, 48g protein
Low Carb Paleo Butter Chicken. This Keto and Whole30 Instant Pot recipe is easy and takes 10 minutes cook time. Use chicken thighs or breasts for the most easy flavorful recipe plus tips on what to make with extra butter chicken sauce !
Macros: 363kcals, 3 carbs, 1g fiber, 2g need carbs, 22g fat, 35g protein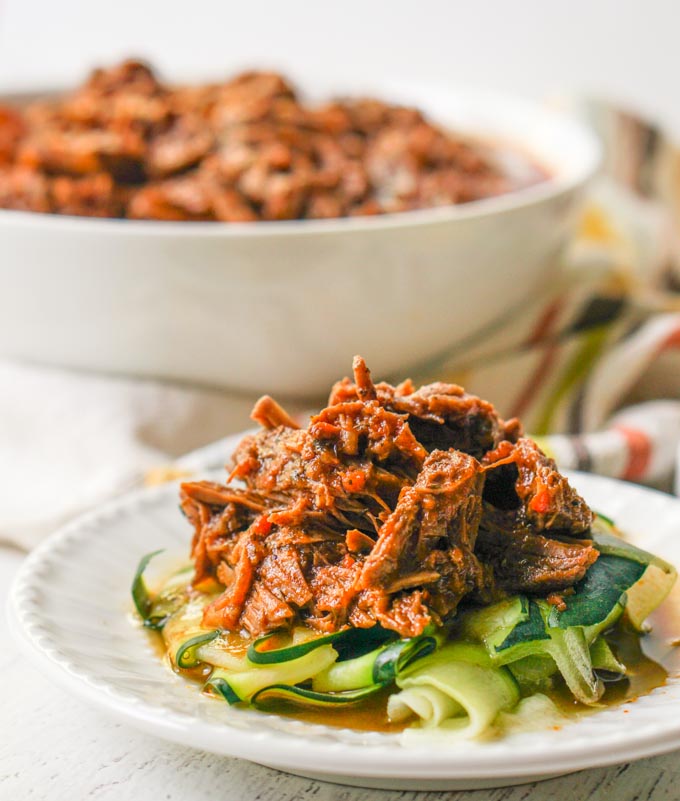 Shredded Beef over zoodles. This Instant Pot shredded beef is a very versatile low carb dinner. This Italian roast makes for a delicious topping on zucchini noodles or use it in casseroles.
Macros: 411kcals, 1.7g net carbs
Cabbage Soup with ground beef. Learn how to make cabbage soup with ground beef, in a Crock Pot or Instant Pot. Simply the BEST cabbage soup diet recipe – or just a delicious dinner.
Macros: 111kcals, 5g carbs, 1g fiber, 4g net carbs, 6g fat, 9g protein
This is pretty low in calories but you can pair it with a keto grilled cheese sandwich!
Low Carb Pot Roast. Beefy, delicious with tons of vegetables, this Low Carb Instant Pot Pot Roast boasts the perfect meal for a lazy Sunday dinner.
Macros: 354kcals, 8g carbs, 1g fiber, 7g net carbs, 13g fat, 51g protein
Want more free keto weekly meal plans? Check out the previous weeks below.
Did you like this post? Sign up to my newsletter to be notified when more recipes are posted.
You can also follow me on Facebook, Instagram, Pinterest and Youtube to see other food and non-food related content (hint – ever wonder what it's like to be a pro bowler or travel the US in a Sprinter van?).