THIS POST MAY CONTAIN AFFILIATE LINKS. PLEASE READ MY DISCLOSURE POLICY FOR MORE INFO.
So it's Monday again. The beginning of the work week for the majority of us. I don't work the normal 9-5 job today, but I am giving a Nutrition Talk tonight at 7pm at Vision Fitness 24 for their weight loss challenge. I know I will be exhausted when I get home tonight so I made this delicious Kale and Quinoa Salad for today's Meatless Monday recipe.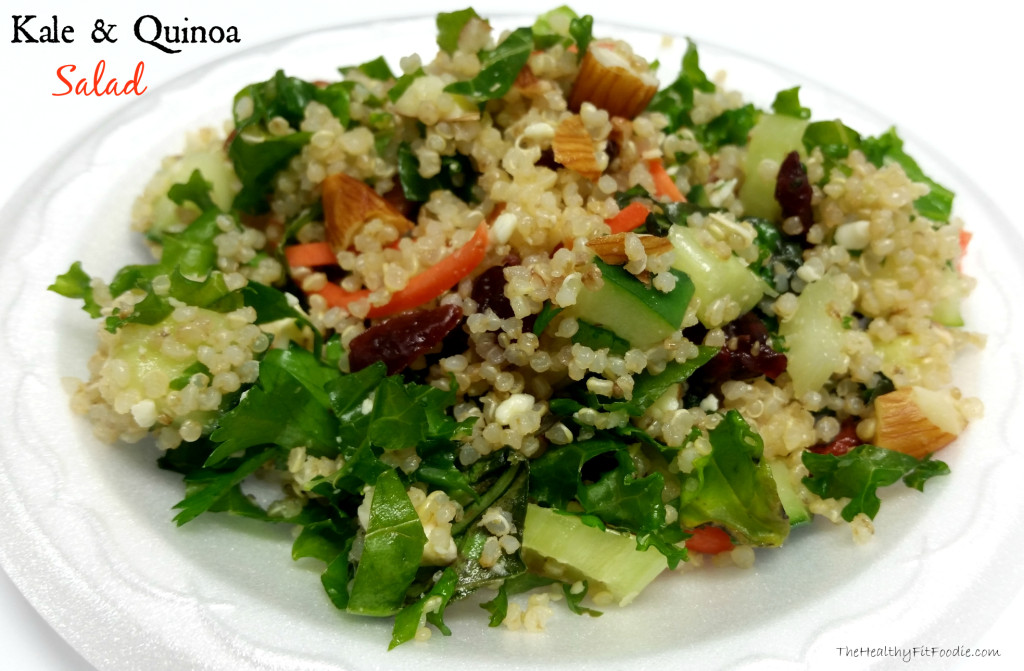 One of my biggest pet peeves is when someone who is unqualified to talk about nutrition is giving out meal plans or is telling someone to eat this much protein or this amount of carbohydrates. It's happening EVERYWHERE. Not only in gyms by personal trainers, but all over social media. People think that since they have abs or a huge social media following that they can start giving out meal plans and prescribing macronutrient requirements. It is so frustrating! Twitter and Instagram are flooded with this type of stuff. It is very insulting to see so many people put their lives in the hands of unqualified "fitspo's." No to toot my own horn, but I went to school for this (Master's Degree in Science of Health in Nutrition and completed my required Dietetic Internship, holding a registration and licensure as a Dietitian and Nutritionist in the State of Florida) and to see Bodybuilders and Personal Trainers offer nutrition packages is frightening. Not only because it seems like my very expensive education is useless, but that so many people are putting their lives in the hands of unqualified dare I say, professionals???
Okay, my rant is over. The whole point of that is to say how thankful I am, that Vision Fitness 24 is having me, a Qualified Nutrition Expert (I feel I have the right to call myself that), give their nutrition talk. In many states, it is illegal to call yourself a "Nutritionist" if you are not a Dietitian or Licensed Nutrition Counselor. Anywhere that requires Licensure for Nutritionists (like Florida), you are not allowed to call yourself a Nutritionist unless you are a Dietitian, but yet it keeps happening. Many people in bodybuilding, put their lives in the hands of coaches. They tell them what to eat, what supplements/vitamins/minerals to take, what and how often to lift, how much cardio to do….and what type of education do they have??? Sometimes it is only a $600 personal trainer certificate that you can complete online.
I am not saying all coaches are like this. There are some very good coaches out there with nutrition backgrounds who are amazing (Krissy Mae Cagney & Layne Norton just to name a couple), but the majority of coaches do not. Would you trust your Doctor if they had that little of an education? The reason I say this is not because I think that a coach can replace a doctor, but to compare the two. With a coach you put your life in their hands. If you have a bad coach, you can end up with metabolic damage and an eating disorder. I have seen it fist hand! I have had clients come to me for help after rebounding and gaining a ton of weight from awful cookie cutter meal plans of asparagus, tilapia and sweet potato, 2 hours of cardio a day PLUS weight lifting 5-6 days a week. With being on such a restrictive meal plan for so long and after you stand up on stage for 15 minutes, it is very easy to binge. That's why I believe it is so important to follow flexible dieting. You get to enjoy the foods you like in moderation, without the fear of avoiding them and then eventually bingeing on them.
The University of Florida has a great article about the credentials needed to call yourself a Dietitian or Nutritionist. I urge you to check it out and question your coach or "nutritionist" to see if they meet these qualifications to give you nutritional advice. If you do not want to read that article, please check out your state's statutes to see the educational requirements, titles that can be used and nutritional information that can be given out by individuals. Since I live in Florida, I will give you the link to our requirement, but first here's an excerpt from the Florida Statutes. According to Florida's licensure law: "No person may engage for remuneration in dietetics and nutrition practice or hold himself out as a practitioner of dietetics and nutrition practice unless a person is licensed in accordance with the provisions of ss. 468.501-468.518" (2014 Florida Statutes, http://www.leg.state.fl.us/Statutes/index.cfm?App_mode=Display_Statute&URL=0400-0499/0468/0468.html).

Kale and Quinoa Salad
Ingredients
1 1/2

cup

uncooked quinoa

1/2

cup

toasted almonds

chopped

1/3

bunch of basil

chopped

1/3

bunch of parsley

chopped

1/2

cup

dried cranberries

2

celery stalks

chopped

2

carrots

chopped

2

cups

chopped kale

stems removed

1/4

crumbled feta cheese

1

cucumber

chopped

1/4

cup

extra virgin olive oil

1/4

cup

fresh lemon juice

Himalayan Sea Salt to taste
Instructions
Cook Quinoa as directed on package

Combine all ingredients except the cooked Quinoa, olive oil, lemon juice and sea salt. (I chose not to add the dressing so that the salad stayed fresh longer)

Mix in Quinoa once it is cooled

Combine Sea Salt, Olive Oil, Lemon juice in a small container.

When ready to eat, toss individual portion with dressing.
So I know everything that I just said really has nothing to do with the recipe that I just posted. I just needed to get that off my chest. With it being the new year and a lot of people have a goal for weight loss or better health, I have been seeing an above average of posts, tweets and instagram pictures talking about what I mentioned above. Now onto the recipe!
I love salads with texture and this salad does not disappoint. Crunchy bits of celery, cucumber and almonds add texture and flavor to this crisp and fresh Meatless Monday meal option. I love the theme of a Meatless Monday meal option, but I must admit I do not always follow it. Nonetheless, I love this recipe. A friend from work gave me this recipe and now I am hooked. It is perfect for any day of the week, not just Meatless Monday. It is packed full of protein (quinoa & almonds), fiber (almost everything except for the olive oil, lemon juice, and salt—the dried cranberries may be a stretch too LOL), antioxidants, and Vitamins & minerals. If you still want more protein and fiber, try mixing Gnarly Vanilla Feast
with a cup of Unsweetened Plain Almond Milk for an additional 21g of Protein and 11g of Fiber!
What are your health and fitness goals for the new year?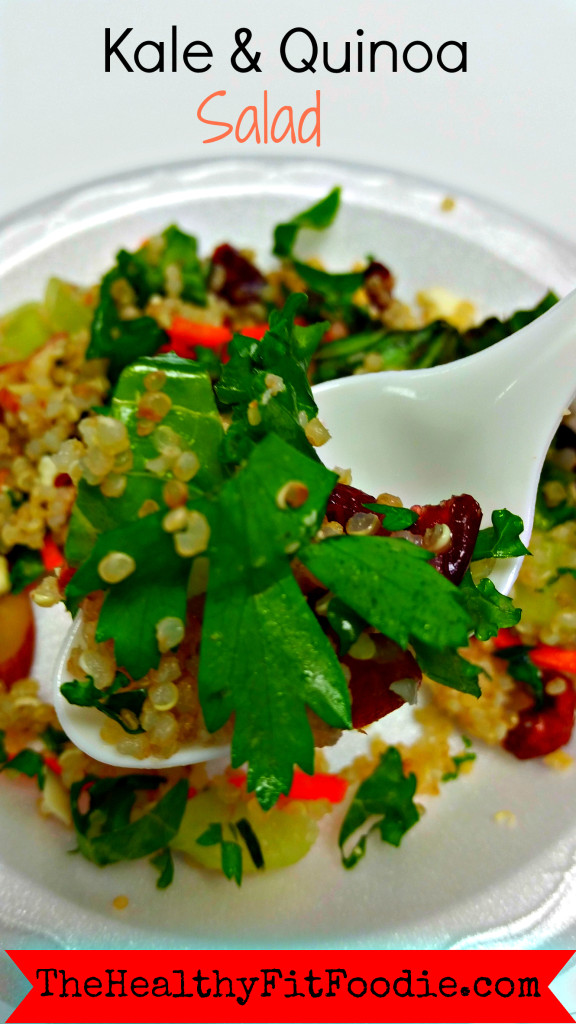 In the spirit of full disclosure, this post contains affiliate links, meaning that I may receive commissions if you decide to purchase anything from companiesI affiliate with. I only ever recommend products & systems that I use and love myself, and my affiliate companies do not monetarily influence anything I post about.