THIS POST MAY CONTAIN AFFILIATE LINKS. PLEASE READ MY DISCLOSURE POLICY FOR MORE INFO.
This super moist and bite sized Coconut Flour Pineapple Upside Down Cake is the perfect treat for any occasion. It is Gluten Free and Grain free so if you are gluten intolerant or have Celiac's disease, you are in the clear with this dessert. It's so good it'll have you coming back for second and third's.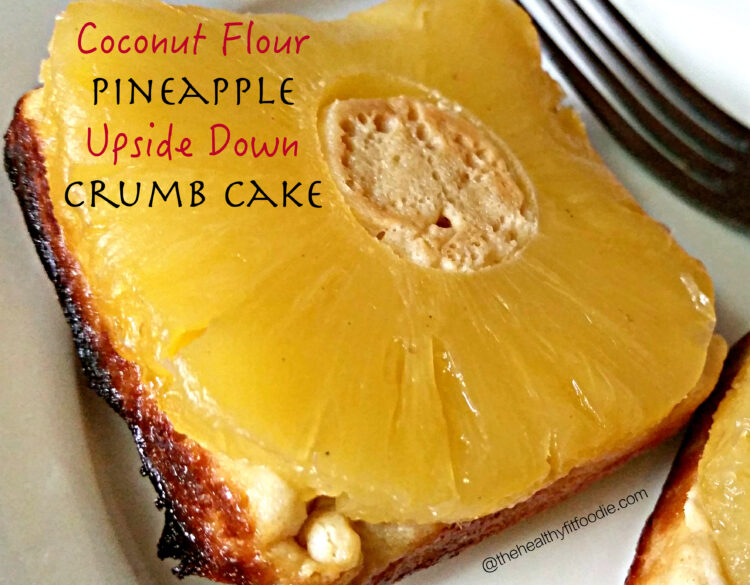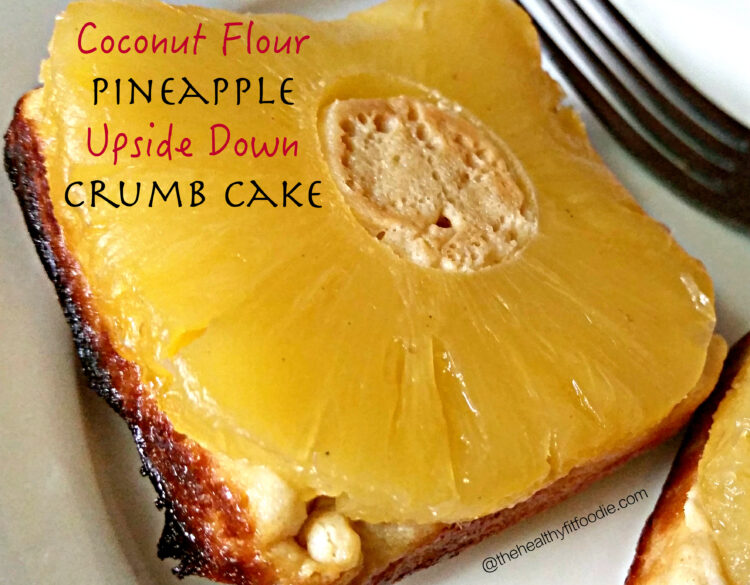 So the title and subject of this blog post was supposed to be "Coconut Flour Pineapple Upside Down Miniature Bundt Cakes" (a mouthful I know), but I made a HUGE rookie mistake and forgot to spray the mini bundt pans with cooking spray and they stuck to the sides and looked terrible. Anyways Coconut Flour Pineapple Upside Down Cake sounds better (just a little LOL, it's still hard to spit out hahah).
Lucky for me there was a little batter leftover which I poured into my Pampered Chef brownie pan (which I usually use for my protein bars) and I came up with these miniature Coconut Flour Pineapple Upside Down Cakes. They still taste amazing, but I was very disappointed that I did not get to share the finished product with you all. That just means I will have to make the recipe again 🙂
I originally made the coconut flour pineapple upside down cake because one of the girls I work with has a girl friend that just found out that she has a gluten sensitivity and she has been struggling with finding healthy recipes for the treats she used to once enjoy. Also this recipe is on the lighter side (made with Truvia Brown Sugar Blend) and naturally higher in fiber (because of the coconut flour) so you can feel a little less guilty while enjoying this sinful dessert.
When I first started to work with Coconut Flour all of my recipes turned out terrible! They were always turning out dry and crumbly even when I added in extra liquid. I did some research and made some MAJOR adjustments with the ratio I was converting (note to self do not use 1:1 flour to coconut flour this is a ratio for disaster!!!).
So my trick that I have been using so far is 1) only use a QUARTER of what the recipe calls for when replacing with coconut flour. Example: Original recipe calls for 1 cup flour, so you would substitute with ¼ cup coconut flour. 2) Add extra eggs. Since coconut flour does not have gluten like regular flour does it needs a binding agent (plus this add extra moisture). I tend to add about 2 eggs per ¼ cup coconut flour. This recipe calls for 1/3 cup plus 2 tablespoons coconut flour and I added 3 eggs to the original recipe. 3) Add Xanthan Gum. This acts as a thickener/emulsifying agent. And there you have it! Those are my tricks for baking with coconut flour.
Be on the lookout for more recipes that incorporate coconut flour/sugar/oil. I bought a huge bag of organic coconut flour, organic coconut sugar and organic coconut oil while I was at Sam's and I am excited to convert some more recipes!
I know you are looking at all of these photos and wondering why I am posting all of these photos in the bunt pans-it's simple. I followed the same steps making the crumb cake as I did making the mini bunt cakes 🙂
[edamam-recipe-recipe:1]
In the spirit of full disclosure, this post contains affiliate links, meaning that I may receive commissions if you decide to purchase anything from companies I affiliate with. I only ever recommend products & systems that I use and love myself, and my affiliate companies do not monetarily influence anything I post about.
What are your favorite dessert recipes?
Related articles across the web